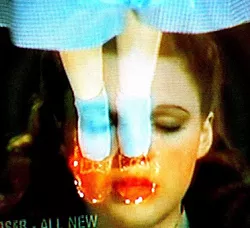 Channeling their inner Dorothy, Mizzou officials yesterday realized that there really
is
no place like home.
The school will remain in the Big 12 (or whatever it will be called now that it's comprised of just 10 teams) thanks to a
commitment yesterday from University of Texas
.
Had the Big 12's biggest school chosen to leave for the PAC-10 or another conference, it's likely the entire league would have collapsed.
In a deal hammered out yesterday, Texas would be allowed to set up its own television network, which should provide the school a major new source of revenue.
The Big 12 also has a new broadcast contract --
reportedly from Fox
-- that will pay the conference much more than previous television deals and send more dollars to each school. Still, the payout won't be even.
As the
Post-Dispatch reports today
, Mizzou would be a Tier 3 school within the conference for football -- getting something less than $15 million a year from the conference. Texas and Oklahoma -- as Tier 1 schools -- would get around $25 million a year. Currently, Mizzou gets between $8 million to $9 million a year from the Big 12.
Oh, and another plug for the P-D: If you haven't seen RJ Matson's political cartoon today about Mizzou's hapless search for a new athletic conference, you're missing a good laugh. Check it out
here
.