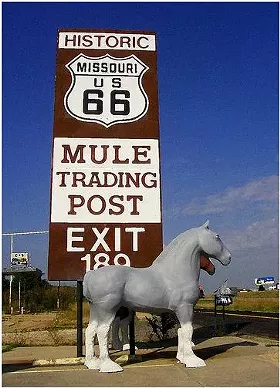 The Rolla Daily News reports on a couple of phenomenally stupid criminals in that town. Which is dumber? You decide!
First up: Bryan Anthony Riden, who, on Saturday, June 5, lifted a collection of video games and DVDs from a house just outside of town and then proceeded to leave a trail of said video games and DVDs for Rolla police to follow.
But the officers of the Phelps County Sheriff's Department are apparently pretty stupid, too, because they failed to issue a warrent for Riden's arrest within 24 hours, leading to the miscreant's release from jail.
Next up: Francois Christian Orloff!
The Daily News describes Orloff's crimes last Sunday, June 6, as follows:
According to a PCSD report, the suspect allegedly climbed a fence behind the Fidelity Cable maintenance lot on Old St. James Road, broke into a storage shed and removed a chain saw. He used the chain saw to cut a wall out of a carport to free a tractor that had been blocked in by other vehicles. The suspect then used a Fidelity truck and trailer to remove the tractor from the area.

The suspect left his moped at the scene, which was, subsequently, identified by a deputy who remembered stopping the rider the night before.
Orloff left the tractor and trailer outside his house. The cops found it pretty easily. While they were investigating, Orloff drove up to the house in the stolen truck. Police immediately arrested and handcuffed him. Orloff tried to run away, but apparently the cops had no trouble re-capturing him.
Orloff was released on $50,000 bond on Tuesday and then, allegedly, escaped from his bondsman without paying up.
Says the Daily News:
Orloff's bondsman, Warren Rogers, with Bruce Venture Bail Bonds in Rolla, confirmed he is looking for Orloff, but he would not confirm or deny any reports that Orloff had escaped.

Rogers said information about his client was considered confidential, and he would not offer any further comment.

However, Rogers did request that anyone with information about Orloff or his whereabouts contact him at [573] 578-4959.