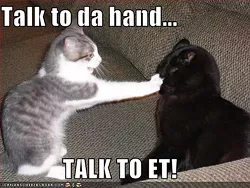 Told u dis day wold come. Dis our day. Respek de feline!
Cat show for bootiful, sexy cats. Feline joolry for sale. Furballz galore. Raffle!
Press ruhlease below tell more info.
Wat!? Wat dis about no bring yur cat to show?! Who de hell made dat rule?? Show yur self muhdefuker!
June 11, 2010
FOR IMMEDIATE RELEASE
ONE-DAY FELINE EXTRAVAGANZA TO BE HELD AT SAINT CHARLES CONVENTION CENTER
CAT SHOW OFFERS ENTERTAINMENT FOR THE WHOLE FAMILY, INCLUDING RAFFLES AND GIVEAWAYS FROM A VARIETY OF VENDORS
ST. CHARLES, MO - The Abyssinian Midwest Breeders (AMB), in association with the Cat Fanciers Association, will be hosting an all-breed Cat Show on Saturday, June 19th at the Saint Charles Convention Center.
This event, which is open to the public from 9 a.m. to 5 p.m., will provide attendees with an exciting chance to view judging of the best of the best within a variety of cat breeds. Besides the judging taking place, there will be raffles, cat supplies and jewelry available from multiple vendors. There will also be pedigreed cats and kittens that will be presented for sale and placement.
Animal rescue groups will be making an appearance and there may be opportunity for the public to adopt rescue animals. In addition to the awards for the best Abyssinians and Somalis, the cats will also be competing for one of the top 10 spots in the judge's final. Many of the top winning cats in the United States will be at the show as they compete for regional and national placements in the 2009-10 season.
The annual AMB show usually attracts Abyssinian and Somali breeders globally. AMB will also host the category of Household Pet (HHP), which consists of felines of unknown ancestry who deem to be as good as the pedigreed cats. Admission prices are $5.00 per adult with children 12 & under $3.00. There is a family four pack available for $12.00.
Attendees are not allowed to bring their home pets to the cat show.