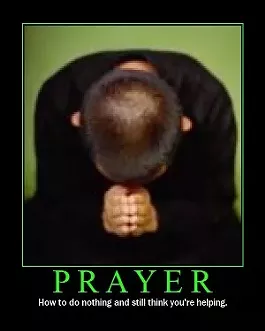 The power of Christ compels you!
Last week the city's
homicide count
eclipsed the half-century mark.
This week multiple random acts of violence and a
Wild West-style shootout
struck St. Louis County.
It's enough to make a God-fearing man throw up his hands and say, "Heaven help us."
Unfortunately, that's actually the plan for local law enforcement.
St. Louis County Police
Chief Tim Fitch
and leaders from the NAACP are planning a "night of prayer" on Thursday, June 10th at the New Horizon 7th Day Christian Church in Cool Valley to "help stop the violence."
KMOX has the story
:
N.A.A.C.P. President Ina Boon believes a night of prayer can work to change the hearts of even those who do not attend.

"Only God can change this world and make a change in people who are using the guns and weapons, " Boon said.

The Reverend B.T. Rice says he'll be praying for both a spiritual revival -- and fewer guns on the streets.

"Guns that these young people and kids can get like they buy candy bars ," Rice said, "Where are these guns coming from? Who's supplying them?"

You hear that St. Louis? Say your prayers and lay off the candy bars.