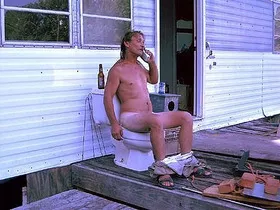 Image via
Don't sit on it, Lonnie, throw the damn thing!
In what might be interpreted as an amusing gesture of regional self-deprecation, our Missouri brethren down in Cape Girardeau will be
raising money
for veterans by holding the "Redneck Games" on the
Fourth of July weekend
.
This olympiad of hoosierdom will include a toilet-seat horsehoe game, along with the so-called "two-holer doggy poop toss," which frankly sounds like something you can get for 30 bucks in a New Orleans backalley.
By the way, if anyone has documentary evidence of people playing "real" toilet seat horsehoes (meaning not for charity, but because they had a toilet seat and nothin' else worth doin'), please e-mail us at rft-letters@riverfronttimes.com.