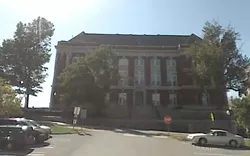 Missouri AG office as seen via Street View.
Here at
Daily RFT
Google's
Street View
is our friend -- especially ever since we crashed the
RFT Jet 'Copter 1
.
Street View allows us to easily capture images of places where news happens and use those pics to illustrate our blog posts.
But could it be that Google has also collected sensitive personal data while trolling Missouri streets with its camera-mounted cruisers?
That's what Attorney General Chris Koster wants to know.
In a
letter fired off last week
, Koster demands that Google provide his office with any and all personal data that the Internet company may have collected from Missouri residents via their wireless networks.
"We expect Google to provide information to us so we can ascertain whether there is any threat to Missourians' private information, and take action if necessary to protect it," says Koster.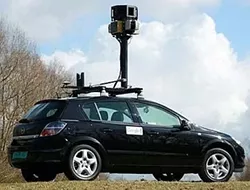 The move follows a similar action in Connecticut where that state's AG has also approached Google about privacy concerns. In that case, Google has
admitted that until recently
its Street View cars were outfitted with antennae that allowed them to gather information about a homeowner's wireless network.
Google stated that the information was used only to improve its location-based services. However, the company also revealed that by mistake Street View did, in fact, pick up information sent from unsecured wireless networks. When made aware of the problem, Google stated that it secured the information.
Hmm. I don't know about this one. Seems to me that you can get similar -- though perhaps not the same -- wifi information just walking down the street with a smartphone. And if you're not smart enough to encrypt your home wifi, then well...
Also, without Street View we'd never have fun websites like the appropriately named
streetviewfun.com
.