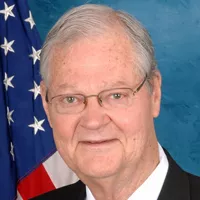 Ike Skelton: Defender of Family Values
Missouri Congressman
Ike Skelton
has unleashed a new tactic in his
opposition to overturning
the military's "Don't Ask, Don't Tell" policy on gay service members.
The Democrat from Missouri's conservative 4th District
told reporters yesterday
that he opposes having homosexuals serve openly in the military because the topic isn't family friendly.
"What do mommies and daddies say to their 7-year-old child?" Skelton asked journalists at a media breakfast. "My biggest concerns are the family."
Last month the House voted 234-194 to overturn the law that dates back to the Clinton administration.
Skelton joined 25 other Democrats and some 168 Republicans in opposing the bill. In his role as chairman of the House Armed Services Committee, Skelton
did his best to keep the bill
from ever reaching a vote on the floor.