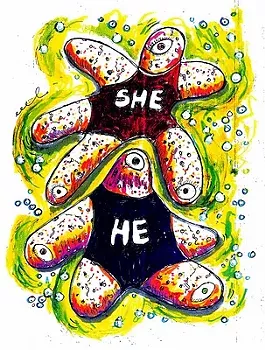 This week in Savage Love: Amoeba sex
Does
Savage Love
gross you out?
Do you feel like the sexual problems that are typically tackled in the syndicated column don't apply to anyone other than the weirdos who write-in?
Does it seem like
Dan Savage
has a formulaic response that involves chastising any person (or society as a whole) for being squeamish, turned off, or appalled by some bizarre sex act?
If you answered yes to any of the questions above, you are guaranteed to get a laugh out of "
Dan Savage's Wild Kingdom
."
A parody from the high-brow humorists at McSweeny's, it replaces Savage's typical reader-generated sex questions with queries from a preying mantis, an amoeba and a "female bluehead wrasse fish." Whatever that is.
Here's one of the questions from the send-up:
CALLER: Dan, I am just at my wits' end, and I hope you can help. I'm a 35-day old male in a polyamorous dom/sub relationship... my problem is that I have to share my partner with approximately 40,000 others, and I just don't know if I'm cut out for this arrangement. I mean, I love Her--she's my queen, and I live to serve her, whether it's feeding the young, carrying waste products to the surface, digging tunnels, or defending the colony from threats like The Giant Beak or Fat-Man-in-Speedo-with-Can-of-Raid. But sometimes I think she doesn't even know I exist--and to make things worse I don't even have sex organs. What can I do to save this relationship, Dan?

Click
here
for the response.