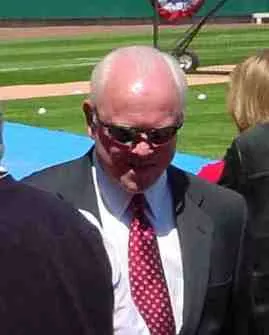 commons.wikimedia.org
Walt Jocketty, now the Reds' general manager, will have a tough decision to make tonight.
​

12. Cincinnati Reds: Chris Sale, LHP, Florida Gulf Coast --

The Reds hit like crazy last year with Mike Leake in the first round, and I think they take another college arm this year. Alex Wimmers would be a great fit here as well, as he may be the most Leake-like pitcher on the board, but Sale gets the nod from me for throwing with the wrong hand.
13. Chicago White Sox: Alex Wimmers, RHP, Ohio State -- The White Sox have a long history of drafting college pitchers with great polish and good but not great stuff. Wimmers fits that to a "T", but actually has better stuff than he gets credit for as well.
14. Milwaukee Brewers: Brandon Workman, RHP, Texas -- The Brewers need pitching, they need it badly, and they need it quickly. A solid college arm with the potential to move quickly and help shore up a depleted rotation in short order is the most logical move here. Matt Harvey is a strong possibility also, I believe, and has better stuff than Workman, but I think the Brewers will go for Workman's track record of performance.
15. Texas Rangers: Asher Wojciechowski, RHP, The Citadel -- This pick is unprotected, as it's carrying over from last year's draft, meaning the Rangers will not receive a compensatory pick in next year's draft if they fail to sign the player they take here. That means no high school kids, no Boras clients, and no bonus babies. Wojciechowski has moved up boards significantly this spring, and the Rangers gladly pull a power arm who should be an easy sign, and hope for upside with their next pick.
16. Chicago Cubs: Justin O' Connor, C, Cowan HS (Indiana) -- Most of the mock drafts out there have O' Connor going to the Cubs, and with good reason. He's a midwestern kid, he fits the profile of the Cubs' preferred draftee, and he shouldn't be an extremely hard sign. The Cubs aren't afraid to spend big money in the draft for upside over performance (see: Jeff Samardzija), but usually go for those picks after the first round.
17. Tampa Bay Rays: Stetson Allie, RHP, St. Edwards HS (Ohio) -- The Rays take advantage of a stocked major league club and minor league system to take one of the best pure arms in the draft in spite of his high bust potential. Austin Wilson would make sense here as well, but I think the Rays will go for the easier sign in this case.
18. Los Angeles Angels: Dylan Covey, RHP, Marantha HS (California) -- The Angels would be thrilled if Covey falls into their lap, and wouldn't hesitate to pull the trigger if he does. Covey has a premium arm, is thought to be the most signable of the prep righthanders, and is a local kid to boot. If Covey is here, I think he makes too much sense to pass up.
19. Houston Astros: Delino DeShields, Jr., OF, Woodward Academy (Georgia) -- Personally, I think this is a bit of an overdraft here, as I'm not real high on DeShields, but the Astros have been all over him this spring, and he fits their mold. He should be an easy sign, and could very well turn into a younger version of the 'Stros current center fielder, Michael Bourn.
20. Boston Red Sox: Nick Castellanos, 3B, Archbishop McCarthy HS (Florida) -- The Red Sox like to take signability guys with better upsides than their draft position dictates, and Castellanos fits the bill nicely. It's possible they could go for Anthony Ranaudo, the big righthander out of LSU, or Matt Harvey here as well.
21. Minnesota Twins: Josh Sale, OF, Bishop Blanchett HS (Seattle, Washington) -- I'll be honest with you: I'm completely guessing on this one. The Twins lean toward polished arms or athletic position players early in the draft, and Sale isn't necessarily either of those, but I think the Twins take the opportunity to grab a bat who is better than this draft slot. Sale is also thought to be relatively signable, and the Twins tend to stay away from the big bonus guys.
22. Texas Rangers: Zach Cox, 3B, University of Arkansas -- After going the signable route with their first pick, the Rangers take a chance here and take Cox, the best player on the board, and worry about his price tag later.
23. Florida Marlins: A.J. Cole, RHP, Oviedo HS (Florida) -- Cole has fallen down draft boards this spring, as his performance has been just good, not great, and a couple other high-profile arms have taken big steps forward. He makes too much sense here for the Marlins not to take him, as he's a premium arm with local ties and a price tag that, while high, shouldn't be completely out of range for the Marlins.
24. San Francisco Giants: Austin Wilson, OF, Harvard Westlake HS (California) -- The Giants like taking players other teams let slip by them due to signability concerns, and they gladly take the uber-talented Wilson to add to their system.
25. St. Louis Cardinals: Matt Harvey, RHP, University of North Carolina -- Harvey has raised his stock considerably this spring, to the point most mocks now have him going off the board much higher than this. Going through the round myself, I almost put him down four or five times, but each time found another player who made as much or more sense. If Harvey does get down to the Cardinals, I think they pounce without hesitation. He's one of the better pure arms in this draft, and the Cards have never been afraid of drafting premium college arms with spotty performance records. They're also willing to deal with Scott Boras (or at least they aren't unwilling to deal with him, if you know what I mean), and I think would be perfectly happy rolling the dice on Harvey's electric arm.
26. Colorado Rockies: Brett Eibner, RHP/OF, University of Arkansas -- The Rockies have had good luck in the past with dual-sport athletes, and thus I think would be willing to gamble on Eibner's two-way athleticism. Eibner wants to play outfield as a pro, and I think the Rockies will give him that chance, with a switch back to the mound always a possibility if he struggles to adjust to professional pitching.
27. Philadelphia Phillies: Kaleb Cowart, 3B/RHP, Cook County HS (Georgia) -- The Phillies lovelovelove to draft high-ceiling athletes, and while there may not be an Austin Wilson here, Cowart certainly could fit the Phillies' MO. He's a switch-hitter, as well, which the Phillies value more highly than many other organisations. Cowart has good potential on the mound, but his long-term future appears brighter in the field and at the plate.
28. Los Angeles Dodgers: Aaron Sanchez, RHP, Barstow HS (California) -- The Dodgers have built a very strong farm system consistently drafting for upside, and they would prefer to go that route again this year, but their ownership situation complicates the matter. Word is they'll stick closer to slot than usual this year, and Sanchez strikes a nice balance between projectability and signability, with the added attraction of local ties. Sanchez makes a lot of sense here.
29. Los Angeles Angels: Reggie Golden, OF, Wetumpka HS (Alabama) -- Golden fits the Angels' preference for athletic players with a broad base of tools. He should sign for near slot money as well, a concern for the Angels who have three picks in the first round.
30. Los Angeles Angels: Peter Tago, RHP, Dana Hills HS (California) -- A local kid with a big arm and a ton of projectability still to go, Tago makes sense for the Angels to complement their other first-round picks this year. I almost want to put a college player here (especially a pitcher), to balance off their other two high school picks in the first, but all three players just fit the Angel profile really well.
31. Tampa Bay Rays: Christian Yelich, 1B/OF, Westlake HS (California) -- I'm a big fan of Yelich, and while he might be seen as a bit of an overdraft here, I don't think he's much of one. The Rays typically tend to draft at premium positions, but after going for the home run with Allie at 17, I think the solid overall tool package of Yelich could appeal to the Rays, who have more athletes than hitters in their system.
32. New York Yankees: Anthony Ranaudo, RHP, Louisiana State -- In 2007, the Yankees took Andrew Brackman in the first round, a tall, athletic pitcher with outstanding stuff who fell down to them due to injury concerns. He ended up having Tommy John surgery and hasn't panned out yet, but I could still see the Yankees repeating history this year by taking Ranaudo. He has some of the best natural stuff of any pitcher in the draft, but missed time with injury early in the season and hasn't been the same since returning. The Yankees are one of the few organisation who can afford both Ranaudo's expected high price tag and the risk that goes along with his physical issues. They can spend their way past a bust, so I think they could very well gamble on Ranaudo's huge upside.
Now, let's watch and see just how wrong I am, shall we?