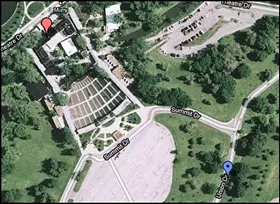 Google
Red dot is front of the Muny, blue dot is ditch near where woman was found
The big buzz right now: early this morning, a volunteer boyscout leader was walking near a shallow ditch by the upper
Muny
parking lot and saw a woman on the ground.
She was bound and only partially clothed. She reportedly told investigators she was raped by a white man elsewhere, then dumped in
Forest Park
. KSDK described her as "severely beaten," though nobody's yet reported her condition.
There 20,000 boy scouts converging on Forest Park this weekend to celebrate their
organization's
100th anniversary. Authorities say the park is safe for the festivities.
See web stories by
KSDK
,
KTVI
and
KMOV
.