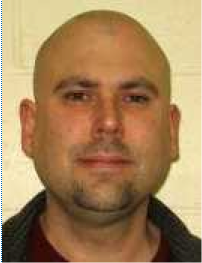 Image via BND.com
Rev. Steven Poole
Just when you think the reputation of Catholic priests couldn't be tarnished any further, a reverend from Illinois gets caught shoplifting and decorating his living space with a bizarre assortment of items.
How bizarre you ask? Like gravestones, shackles and a
Hoarders
-worthy collection of crap bizarre.
The priest's name is
Steven Poole
and he was the reverend at St. Andrew Catholic Church in
Christopher, Ilinois
, (about 95 miles southeast of Belleville) for the past eight years.
George Pawlaczyk of
the Belleville News-Democrat has the story
, and oh, what a story it is.
Apparently Poole, 42, had a history of shoplifting that included pilfering items that ranged from a $900 "five-foot long 19th century English tavern sign" from a high-end antique store in Ladue, to a $3.22 container of butter from Wal-Mart.
The real problem, however, was Poole's taste in interior decoration. Here's how a 72-year-old nun described the accouterments of the church's nine-room rectory:
"Shackles, hanging from the ceiling, and a tombstone with somebody's name on it. ... But that wasn't the real problem," she said, shaking her head.

"There was just stuff everywhere. It's a shambles. You couldn't put your hand on a wall because there were things nailed up everywhere, every inch. The walls in every room have to be replaced. There's holes everywhere. On the walls. The floor. Just stuff. Movie posters. Thousands of things. You couldn't live in there. ... A priest who comes over to help us out wouldn't stay there overnight."

Poole previously served at parishes in Belleville and Breese, Illinois. The church wouldn't disclose his current assignment and called it "a personnel matter."
Meanwhile, the staff at St. Andrew's is busy cleaning up the mess the reverend left behind.
Burkitt said that she and several other women of the parish were told by Knapp that "every item" had to be inventoried, and then only Poole's possessions from a sitting room and one of three bedrooms could be removed. They were reminded that the diocese owned the rectory, not the parishioners.

"It was just an awful pile of stuff," Burkitt said. These items were locked in a church garage. She described the shackles as two chains with what looked like handcuffs at the end.

As for the tombstone, Burkitt said it was described to her as being about 3 feet high and of stone with incised letters.

Read the whole sordid tale, which also details Poole's arrest for filing a false police report and his parish's struggle to get the Catholic church to appoint a replacement and fix up Poole's disaster of a room over
here
.