Here's a collection of photos from Tuesday afternoon's protest outside the office of Sen. Claire McCaskill on Delmar Boulevard, by those decrying Israel's attack Monday on a group of ships that were trying to deliver humanitarian aid to the Gaza strip -- and by supporters of Israel. Israel and Eygpt have blocked delivery of supplies to Gaza for the past three years out of their concern over the potential for delivery of weapons to Hamas, which gained control over the Palestinian portion of Gaza after the Palestinian parliamentary elections in 2006. Photos by Kholood Eid.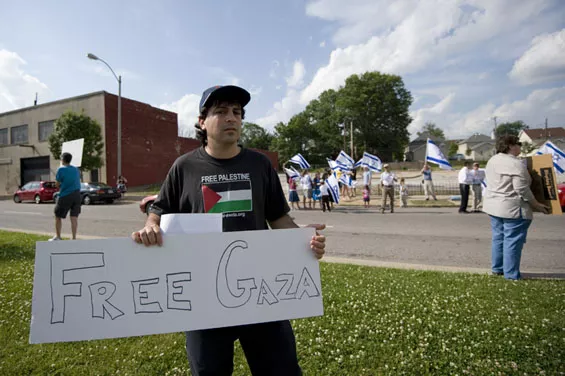 "I am a Jew and I find it repulsive what's being done in my name, the murder of human rights activists bringing aid to people under siege," said Michael Berg of St. Louis.
Supporters of Israel stand at a median across from Senator McCaskill's office while cars pass on Delmar during rush hour.
"What CNN and Fox say about Israel is self-defense, but we're here to say what Israel does is state terrorism. Attacking a boat in international waters and a blockade of people is an act of war," says Julian Barnes of St. Louis, whose father grew up in Lebanon as a son of missionaries. "My father and grandparents have been to the West Bank and Gaza and have seen the conditions of the refugee camps and have seen the crimes Israel has committed."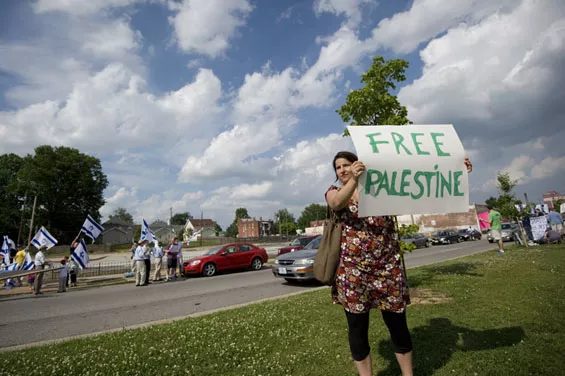 "Culturally, I want to stand up for oppressed people. I've grown up around the Arab culture and Arab friends and feel I have to do something," says Lili Noel. "And I'm here because Israel violated international law."
"The Israelis are giving food to the Palestinians. They're not starving. I've been tracking this [situation] for a number of years. Everything I've read is just inciting anger and hatred against Israel and a lot of it is not true. It's propaganda. It's a media war," says Nadyne, a University City woman who didn't want her last name published. "People have to learn the truth in order to change."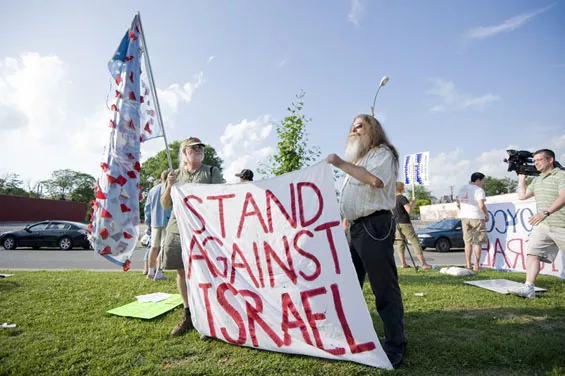 Ivan Martin of St. Louis and Mark Fredericks of Richmond Height were among approximately 60 supporters of Palestinians. The rally attracted a diverse crowd on the Palestinian side, but all with a similar cause. "Supporting the people of Gaza and the whole humanitarian effort," says Martin.
"The firm belief that Israel acted fully in compliance with international law from those who would aid terrorists," said Joseph of Chesterfield, on what brought him to the protest.
Ralph Barr of University City. "I was just passing by," said Barr, who then joined the protest on the pro-Palestinian side.
"When that attack happened in December 2008, the massacre, I educated myself on the history and I don't like seeing children not having basic needs met in my name," said Laura Shields of St. Louis.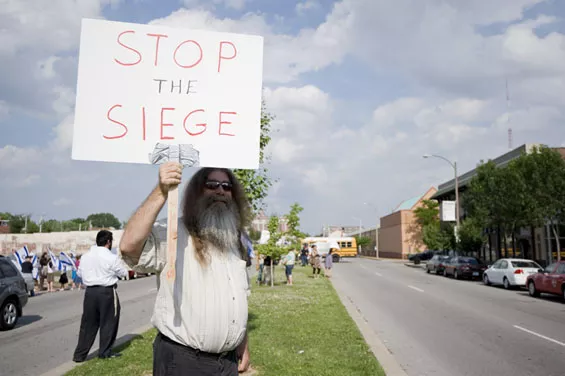 "To support non-violence and support the Free Gaza Movement. I've been a supporter for years," said Mark Fredericks of Richmond Heights. "Basically, you need to treat people like people. I don't see how the United States can stand for piracy."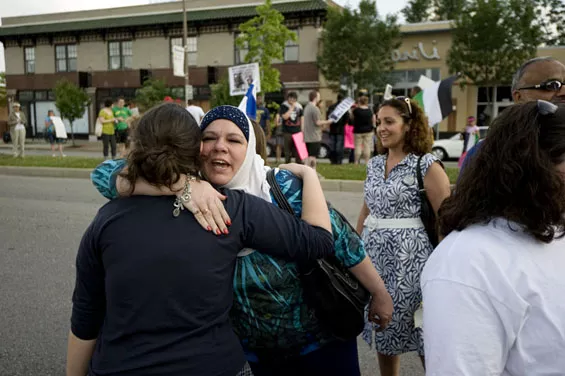 Zehra Sarim of St. Louis embraces protesters from the other side.
A Palestinian supporter holds a sign that calls Israel "occupiers," "oppressors," and "pirates." There were approximately 60 Palestinian supporters while there were about 30 Israeli supporters across the street.
Anis Ghannam, 2, holds a Palestinian flag during the protest.
Batya Rich of St. Louis holds a sign for cars passing on Delmar. "I'm pro-Israel. I'm against anyone being hit over the head with a club. That's not peace," said Rich.
"The blockade is against all human rights," said Fatima of St. Louis.