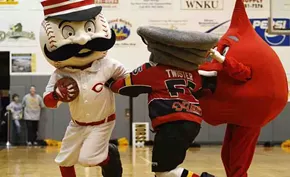 omgreds.com
I have no clue what is going on in this photo, but it's pissing me off. That I do know.
Well, back to second place it is. Tied for first was nice while it lasted, but I suppose it just wasn't meant to be.
Truth be told, I wasn't at all bummed out when the Cards were getting their asses handed to them early on and it was 7-3. Hey, some days you're the windshield, and some days you're the bug, right? But then, seemingly out of nowhere, the Cardinals decided to act like the team that was never out of a game, the team we last saw about a week after tax day. And suddenly they were up. After being down four runs against a legitimately good pitcher, they came all the way back and had a lead with just nine little outs to get.
So now I'm pissed. I could deal with getting pounded, but that? That was just painful.
-- Okay, so I said I was pissed, and that's accurate. To have the lead and then watch it slip away like that was brutal, but at the same time I'm more than a little encouraged by the fact the Cards climbed back into the game at all. We've seen lifeless, almost shellshocked play from our boys in red for over a month now, games in which even a one- or two-run lead seemed all but insurmountable. So to see them claw their way back into a game from four runs down is a pretty remarkable transformation all on its own.
-- Just as impressive was who the Cardinals did it against. Johnny Cueto is an extraordinarily talented pitcher, the sort of pitcher you can't complain about being shut down by. Sure, he's been more than a little inconsistent throughout his career, but this is a guy with top of the line stuff. And the Cards refused to just roll over and let him have his way, even after getting down early. It was one of the more impressive comebacks I can think of over the past few season, to be honest.
Over his previous four games, Cueto had thrown 28 innings, allowed just 3 earned runs, and struck out 29 against only 5 walks. That's good for a 0.96 ERA. Tuesday night, the Cards battered him around for eight runs and ten hits in just five innings.
Of course, the problem with that line of thinking is it isn't the good pitchers the Cards seem to have so much trouble with. It's the Kyle Kendrickses and the Bud Norrisses of the world that really seem to be the problem. So maybe hitting Cueto hard isn't as encouraging a sign as it feels like.
-- I'm beginning to think P.J. Walters is exactly what he looks like at the major league level. I've held out hope much longer than I ordinarily would on a guy with such weak stuff, because I have a soft spot for trick pitch guys, and his changeup is as tricky as they come. But watching Walters throw against the Reds, it was pretty clear he just didn't really have anything he could consistently get hitters out with. I keep hoping P.J. is going to come around and be a solid pitcher in spite of his below average repertoire, but I'm fast losing confidence that's ever going to happen. In fact, I think P.J. Walters just may not be a major league quality pitcher.
-- It was nice to see Colby Rasmus put one over the fence; he had only one home run in the entire month of May. In fact, Colby's power almost completely disappeared for the month; after slugging .708 in April, he saw his slugging percentage fall to just .357 in May. If the Cardinal offense is going to turn around, Colby Rasmus is going to have to be a part of it.
-- When did Trever Miller get stuck in mopup work? Okay, maybe not quite mopup work, exactly, but why is your best left specialist pitching the fifth inning of a game in which you're down by four? The Cards have made half a dozen roster moves over the past few days just to try and protect the pitching staff, yet somehow they still end up throwing a valuable short reliever out there in the middle of the game, burning him early when he would have been much more valuable later on? What the hell happened? I haven't complained about Tony La Russa all that much this year, but that was just asinine.
-- It may actually be a bit of a moot point now, but I would like to see a whole lot more Felipe Lopez at second base, and a whole lot less of him at shortstop. He's awful defensively at short, and honestly, I would rather see Skip Schumaker riding the bench right now than Brendan Ryan. At least Ryan can still save runs on defense; Schumaker has been nearly as awful on offense and has more errors than anyone else in the National League this year.
-- And finally, how great is it to see Matt Holliday looking like Matt Holliday again? He took three walks last night, refusing to bite on bad deliveries, and he's been hitting the ball with actual authority of late. Albert finally looks to be coming around; if Holliday can do what he does most years heading into June, the Cardinals' offensive woes should soon be just a distant memory.
-- Oh, and one last thing: F you, Scott Rolen.