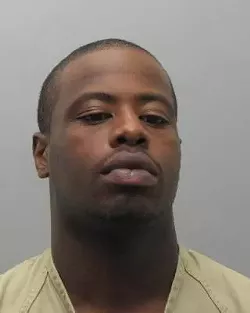 The St. Louis County prosecutor's office yesterday filed 13 charges of burglary, assault and robbery against 24-year-old
Rashad El
for the horrific assault on a couple inside their south county home last week.
According to authorities, one of the victims,
Brad Schien
, had hired El through Craigslist to do tree-trimming work and odd jobs around the house he shared in the 5400 block of Medalton Way with his girlfriend,
Darlene Hopkins
.
Recently, though, Schien had fired El and the hired-hand apparently took umbrage with the dismissal.
Police believe El is the person who burglarized the couple's house May 10 and then returned last Thursday night to savagely beat the couple with a blunt metal object. Neighbors say they saw a large man staring at the couple's home just before or after the beatings. El stands 6-foot-5 and weighs 250 pounds.
St. Louis County Police Chief Tim Fitch says Schien's wounds are "the worst head injuries I've ever seen on a living victim." Schien has yet to regain consciousness following the attack. Hopkins has been awake several times. Both remain hospitalized.
El, of the 2100 block of East Alice in St. Louis, is being held on a $2.5 million bond. Police are looking for an additional accomplice to the crime.