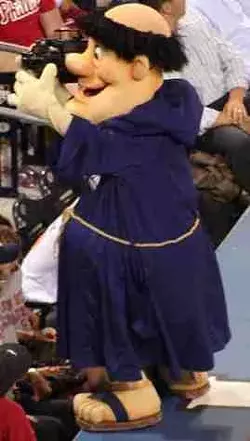 commons.wikimedia.org
Admit it. That's a creepy effing mascot.
​The Cardinals travel to
San Diego
tonight to begin a series against the surprising
Padres
, who sit atop the NL West. Looking over at the other dugout, the Cards just may see a mirror image of themselves, a team succeeding mostly on the strength of outstanding pitching while hitting just enough to win most nights.
Given the nature of playing in
Petco Park
in general, it should come as no surprise to anyone the Padres' pitchers have put up some pretty remarkable numbers overall. Still, though, even taking into account the canyon they play in, this is a talented pitching staff, one the Cards will have to be sharper than they have been of late to overcome.
First things first, let's take a look at the Padres run differential of
188 runs scored vs. 144 runs allowed
. That's better than the Cardinals, who have scored 196 runs while allowing 165. And why is that important?
Because run differential is one of the easiest ways to gauge how lucky or unlucky a team has been in relation to their won/loss record. A team with a winning record who gives up more runs than they score is not, generally speaking, going to continue winning. Just the way it works. So you look at that record for the Padres, and then you look at who their run differential says they are, and the two match up just fine. Whether or not San Diego really is this good or not remains to be seen, but so far this season they've been almost exactly the team their record describes.
Translation:
Yes, they really are pretty good.
Offense

Rather than tossing around a bunch of numbers you probably don't care about anyway, I'm just going to sum up the Padres for you right now. The San Diego Padres are not a very good offensive team. Okay. Moving on.
I like the old school colours for the Padres. Sue me.
What? You want proof? Oh, come on. I said I wasn't going to toss around a bunch of- Alright, fine. This job would be a whole lot easier if you people would just take my word on these things.
The Padres only have one really good hitter, but that one good hitter is a doozy. Adrian Gonzalez is still one of the more underrated individuals in the game, a legitimate top 10-15 player in all of baseball right now. He also has perhaps the team-friendliest deal in the game, but that doesn't really factor in a whole lot here. Gonzalez is currently putting up a 153 OPS+, and has nearly as many walks (30), as strikeouts (34). Adrian Gonzalez is a bad, bad man.
Beyond Gonzalez, though, there isn't a lot to be afraid of here. Kyle Blanks, the San Diego version of Chris Duncan (okay, he's not as cringeworthy in left field, but the shoe fits otherwise), has monstrous power but brings a 73 OPS+ into tonight's contest. That's not so good. He's going to break out, but let's just leave that for after the Cards leave town, hmm? Will Venable, the talented right fielder and Ivy League man about town, has been good but not outstanding, with a 104 OPS+.
Overall, the Padres have five regulars providing league-average or better offense; the exact same number the Cardinals have, in fact. The key difference is the Padres are getting that production from a couple unlikely sources, including David Eckstein, who currently sports a nifty .775 OPS. (In case you were wondering, no, David Eckstein is not all that likely to end the season with a .775 OPS.) The Cardinals are a much, much more talented team offensively. Sadly, being more talented hasn't yet made the Cards any more productive.
Edge: PUSH
Starting Pitching
As I said before, the Padres have ridden their pitching to the top of the standing in the West, and it starts with the rotation. Mat Latos in particular has been a revelation; a legitimate ace in the making at the tender age of 22. He has great stuff and is just beginning to scratch the surface of what his talent will enable him to accomplish. Thankfully, the Cardinals won't have to try and figure him out this series.
As for the rest of San Diego's starting staff, they're a group of productive if somewhat uninspiring hurlers. Jon Garland, the starter in tonight's series opener, has an outstanding ERA (2.38), but even a cursory glance at his peripherals shows it to be smoke and mirrors. His strikeout to walk ratio is nearly 1:1 (31 punchouts to 27 walks, to be exact), and his batting average on balls in play is at .262 despite a 20% line drive rate. His FIP is almost two runs higher than his ERA. Jon Garland is a big giant ball of regression just waiting to happen.
Kevin Correia has been just fine as a steadying influence at the back of the Padres' rotation, and will likely remain so for the near future. He's actually pitched a little better than his 4.57 ERA would indicate (FIP of 4.00), and what you see with him is about what you're going to get. He's a nice #3/4 sort of pitcher, nothing more, nothing less. Remember Jeff Suppan with the Cardinals? Yeah, that guy. Correia is kind of that guy.
Wade LeBlanc, who will most likely start the series finale, has been an absolute savior for the Padres. He took Chris Young's place in the rotation and has performed admirably since, though he got lit up by the Mariners of all teams his last time out. LeBlanc has good but not great stuff and has been successful this season largely due to his ability to strand runners and prevent home runs. His strand rate is probably due to come back to the mean a bit, and he has long had a reputation for serving up dingers in the minor leagues, so it's possible he could see some regression. Then again, pitching at Petco does wonders for a guy's home run rate, so I wouldn't really bet on him giving up a bunch of longballs.
The Cards will counter with Adam Wainwright and Jaime Garcia in the first two games, respectively. Wainwright is one of the best pitchers in the game, and Garcia has been sterling so far this season. I would give the Cardinals the starting matchup in each game. The third game, though, is a different story. The Cards have yet to determine who exactly will take the start on Thursday, with P.J. Walters an option, along with whoever else the team decides to call up between now and then. The most likely scenario right now is a callup for Adam Ottavino, but that is by no means set in stone. Whoever it is, it would be tough to envision a better place for a major league debut than the spacious expanses of Petco, which tend to be quite forgiving to mistakes. (edit: Ottavino started last night for Triple A Memphis, so even if he is the callup he won't be starting in San Diego. -Aaron)
Regardless, while I certainly believe in Ottavino's talent (if it is, in fact, him), I have to give the edge to the team who already knows the name of their starting pitcher. (Also, LeBlanc is left-handed, just to pile on a bit.) So two games to St. Louis, and one to San Diego.
Edge: CARDS
Bullpen
Now here is where the Padres really have a definite advantage. Their bullpen has been outstanding, led by their closer-slash-plus-size-jeans-model Heath Bell, who comes into the series with a miniscule 0.95 ERA. That's pretty good. Bell was seen as prime trade bait coming into the season, but the Padres' surprising relevance could very well change those plans.
Perhaps most impressive of any San Diego reliever (and most painful for those of us in Cardinal Country), is Luke Gregerson, the player to be named later in the Khalil Greene trade. (I warn you, any squeamish readers or those with weak hearts may want to just skip down to the next paragraph.) So far this season Gregerson has a nifty 1.90 ERA, but what really jumps out at you is his walk rate. In 23.2 innings, Gregerson has walked exactly one batter unintentionally, for a walk rate of 0.8 BB/9. That's not a number I can recall seeing in a guy's line very often. Oh, and he's also struck out 26 hitters in that same time frame, meaning his K/BB ratio is 13.00. I'll let that sink in for a bit. Got it? His strikeout rate is 9.9/9, and his K/BB is 13.00. Thirteen. Not only can I not recall having seen that before, I honestly didn't expect to ever see something like that. That is taking stinginess with free passes to an impossible level.
In fact, the whole Padre bullpen is remarkably good about avoiding walks, which I suspect is largely a function of the ballpark they play in. When you play in a park which helps to suppress power to the extent Petco does, there's little reason not to challenge hitters when you're down in the count, rather than putting them on base. Still, it's impressive to see a relief corps capable of executing on a consistent basis. Edward Mujica strikes out nearly a batter per inning but has issued only 3 free passes in 21 innings. Tim Stauffer, pitching mostly in low-leverage situations, is rocking a 4.75 K/BB rate to go along with his 0.39 ERA. You get the picture. This is a bullpen full of pitchers who do not beat themselves, and they're aided by a ballpark which allows them to come right after hitters with the confidence there are very few balls the walls of Petco won't hold.
The Cardinal bullpen has been solid on the season, and very good of late, but I just don't think they stack up to San Diego's relievers. Ryan Franklin and Kyle McClellan have both performed at a strong level this year, but they just can't compare to Bell and Gregerson. The one spot I do believe the Cards could be said to have an advantage here is in left-handed relief: the Cardinals' southpaws have been outstanding again this season.
Edge: PADRES
In the end, I think the Cardinals are the better team, even in a series in which we would see the Padres' best starters, because the upper part of the Cards' rotation is a bit stronger and the offense has more firepower. (Again, more talent. Not necessarily more production, at least not yet.) Make no mistake, though: the San Diego Padres may be playing a bit above their true talent level right now, but probably not nearly as far as you might think. This is a good baseball team, and the Cardinals are going to need to step up their game if they hope to turn around their recent struggles.
And lastly, I would like to apologise to all the fine citizens of San Diego, but I just can't help myself.