If you're one of the seven people who didn't watch the
Lost
finale last night -- or see any of the show, ever -- you can breathe a little easier this morning. Drive-time radio talkers won't be wheezing about it on-air any longer and publications ranging from your uncle's blog to the
New York Times
won't waste any more words on it. Here's a recap of our weekend coverage.
Human Chess Game in the Central West End
On Friday afternoon, a human chess game got underway in the Central West End at the
Chess Club and Scholastic Center of Saint Louis
, in conjunction with the national chess championships, being held through Tuesday. Photographer Nick Schnelle brings back these photos of the
human chess game
.
St. Louis Centre Skybridge Comes Down
On Friday night, St. Louis held
a wrecking party of sorts
, as the ceremonial first swings of the wrecking ball.
Read more about St. Louis Centre here.
Hum at the Old Rock House
On Saturday night, Champaign, Illinois' Hum played the Old Rock House. It was the band's first show in St. Louis since December 2000. So how did they do?
Annie Zaleski reviews the Hum show here.
The English Beat at the Duck Room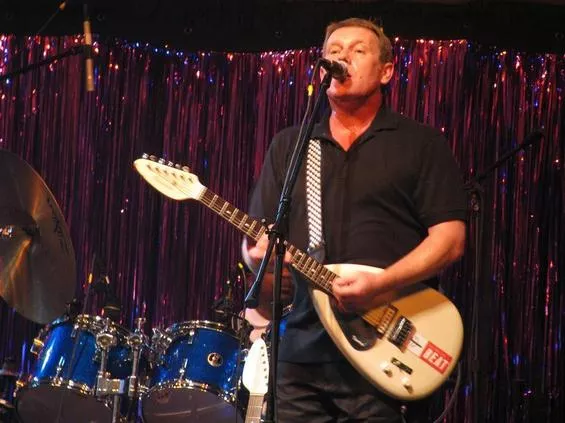 Annie Zaleski
Dave Wakeling of the English Beat at the VooDoo Lounge (July 2008)
"For the third year in a row, Dave Wakeling brought his reconstituted English Beat line-up to St. Louis for a summer ska dance party," writes Christian Schaeffer in his
review of Saturday night's show at Blueberry Hill
. "But unlike the shows in 2008 (with the Alarm and the Fixx) and 2009 (co-headlining with Reel Big Fish), the English Beat didn't have to share the Duck Room stage.
That fact alone helped make the last night's concert the best of the band's recent visits.
"
Mucca Pazza at the Firebird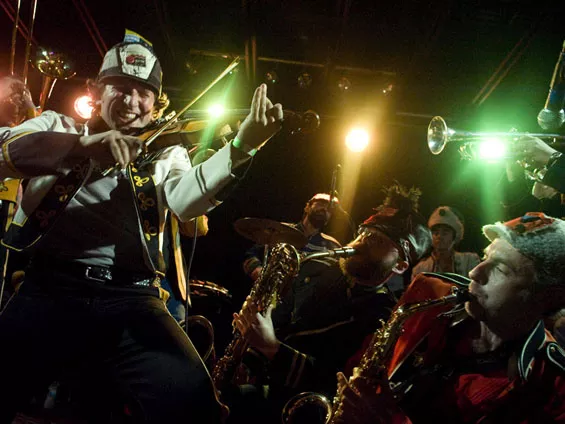 On Saturday night, the big-ass punkish brass band from Chicago,
Mucca Pazza
, came to St. Louis.
It looked like a party, judging from these photos
by Jon Gitchoff.
Photo: Egan O'Keefe
Mini Lady Gaga reenacts the real Lady Gaga's Video Music Awards performance. Apologies if this is too early in the morning for fake blood. See more Mini Lady Gaga photos here.
On Saturday night, "Mini Lady Gaga" came to Home Nightclub. Yes, Mini Lady Gaga. (She previously was Mini Britney (Spears.)
See the whole slideshow of Mini Lady Gaga photos here.
Pinball at the Silver Ballroom
Nightlife photographer Lee Harris hit up South side bar the Silver Ballroom on Saturday night.
See his photos from the Silver Ballroom here
.