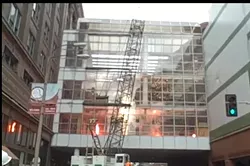 The wreckage. Flares and what sounded like amped-up explosion sound effects accented the display.
About 5 p.m. tonight, St. Louis Mayor Francis Slay strapped on his orange construction vest and took the ceremonial first whack with a wrecking ball at the four-story St. Louis Centre skybridge.
The walkway over Washington Avenue just east of 7th Street has long been symbol of downtown's failure to revive.
Related Content:
Now for a Bizarre Video from St. Louis Centre
Wrecking Ball: Party Friday to Celebrate Demolition of St. Louis Centre Skybridge