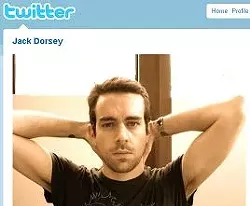 The co-creator of the
Twitter
was back in his hometown of St. Louis yesterday to deliver a commencement speech to the 2010 graduates of his alma matter,
Bishop DuBourg High School
.
Jack Dorsey
, peppered his speech with references to his childhood growing up in St. Louis. It was his fascination with maps and (more oddly) the shopping trips he'd make with his mother to purchase handbags at Famous-Barr, that he credits with helping him to develop Twitter.
After the speech, Dorsey returned to his parents' home to watch the Cardinals game on TV and
order pizza and T-Ravs
from Imo's.
Read Dorsey's speech after the jump.
Bishop DuBourg Commencement

"Expect the unexpected, and whenever possible, be the unexpected." Those words are from Lynda Barry's novel "Cruddy."

I've carried them with me for some time. There's a lot in my life I wasn't expecting. One is the realization that I stood at this pulpit and delivered a reading for my own graduation...15 years ago. Unexpectedly, I'm old.

When I was young my mom would drag my brother and I to Famous Barr and shop for bags and purses on what seemed like a weekly basis. For my mom, it was about finding the perfect bag (and using my grandmother's employee discount), and a joy. For me, it was a fate worse than the most painful death I could imagine and was spent sprawling out on the floor until various salespeople barked that I was blocking potential sales.

My parents always loved living in the city. The first time I remember falling in love was when I fell in love with the city. I loved it so much I became obsessed drawings of cities: maps. I would constantly get lost in them, discovering street names, secret places, and entirely new sections of the city yet to be walked by me. I found joy in staring at a map of a city and wondering about the life occurring within it. I had to do something about it. At 15 I taught myself how to program and draw a map on the screen. I learned how to draw dots and make them move within the borders of the map. To me, it was the most beautiful thing I had ever seen. But my dots had no meaning. Through a fledging connection to the Internet provided by Wash U, I found a public database of bike couriers, ambulances, and fire trucks constantly broadcasting where they were, and most interestingly, what they were doing. I found meaning for my dots. I found a beautiful, living picture of the metropolis I loved. I also found a new obsession with finding the perfect courier bag.

Unexpectedly, that early fascination with bags and maps and couriers and the constant desire to know what the people in the maps were doing, became Twitter. Thanks, mom. And thanks to the people here at Bishop DuBourg for the encouragement and strength to explore.

When I was sitting in this Cathedral 15 years ago, I stressed over answering the questions "what's next and where should I go?". Frustratingly, my graduation gift, "Oh, the Places You'll Go" by Dr. Seuss, never answered that last question.

Unexpectedly, after what has felt like an epic journey, my maps did. I simply followed what I loved, discovered and learned from one surprising realization to the next, and worked hard and patiently to share what I expected to see in the world.

As you leave this Cathedral tonight, expect to work hard, to enable others work, to be patient, to discover and follow your true love, and 15 years from now, to stand at a pulpit and share everything you weren't expecting.

Congratulations, and thank you.