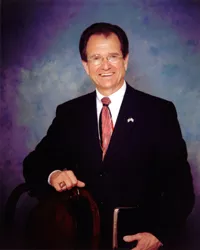 parkerroadbc.org
Danny O'Guin: A good ol' Baptist?
You'd think that his name alone would arouse suspicions. A man with the strong Irish Catholic name of
Danny O'Guin
installed as the preacher of a Baptist church in north St. Louis County.
Apparently, though, the good flock at
Parker Road Baptist Church
in Florissant had no problem with their pastor -- that is, until he began asking the congregation for personal loans.
Between June 2006 and March 2009, O'Guin would borrow thousands of dollars from church members who -- according to the U.S. Attorney's Office -- felt compelled to enter the transactions with their religious leader.
With each new loan O'Guin would allegedly tell his parishioners to "keep quiet" about the transaction, which they did, until O'Guin didn't pay them back.
According to a federal indictment handed down this week, O'Guin would borrow from another church member to repay delinquent debts, send letters assuring the church members that payment was forthcoming, send checks with "mistakes" in them and generally employ other "lulling' techniques. In one case, he made out a check for $1,125 to satisfy a debt of $10,125. Once the lender pointed out the error, O'Guin sent a substitute check which bounced.
O'Guin, 62, formerly of Florissant, is charged with four felony counts of mail fraud. If convicted, each count carries a maximum penalty of 20 years and/or fines up to $250,000.