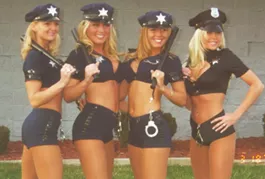 A new chief has been hard on Washington Park Police.
Changes are afoot in Washington Park, Illinois. Last month, John Thornton, the mayor of the tiny, suburb of East St. Louis, was murdered early one morning in April.
Thornton was tremendously popular and the crime sent shock waves through the small community. Now, as part of the road to recovery, there's a new sheriff in town. Literally.
Dave Clark, a former St. Clair County Sheriff's Department deputy, was appointed to be the village's new Chief of Police earlier this month. Like something out of an old Hollywood western, Clark is stridently attempting to clean up the crime-plagued town and making proclamations like, "We're no longer going to sit and watch guys break the law. We're going to enforce the law."
According to
a story in this morning's Belleville News-Democrat
, Clark's confrontational-style rubbing a lot of people the wrong way. Mostly his own police officers. The worst part? On Clark's watch the cops are no longer allowed to spend their on-duty hours hanging out in Washington Park's seedy strip clubs.
Officers also must utilize their time better. Instead of hanging out at businesses for long periods of time -- the village is home to about half a dozen strip clubs -- officers must "do a better job of patrolling and getting guys off the streets," Clark said

Other new policies causing discontent among the ranks include no leaving town on-duty unless it's on official police business, strictly enforcing traffic laws, and a requirement that all reports be filed before the officer is off-the-clock for the day.
Smith's story says many officers have called in-sick in recent weeks in a suspected case of the "blue flu."
Any idea
where
they
might
be
spending
their time?