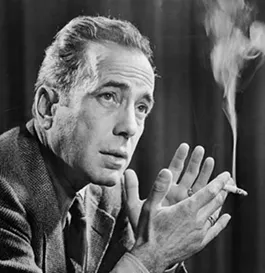 Image Source
K2 wasn't an issue in Bogey's day.
The Missouri Legislature
approved
a ban on K2 "synthetic marijuana" last Friday and sent the measure to Gov. Jay Nixon for approval.
The proposed law essentially puts K2 on the same legal plane as real marijuana, making possession of less than 35 grams a misdemeanor.
The measure, HB 1472, was unanimously approved by the Senate and passed 140-7 in the House.
Gov. Nixon is expected to sign the bill into law, but, as of this morning, it's still in his hands with no action taken. Isn't there
a word
for that in pothead parlance?
A potpourri-like substance, K2 contains "synthetic cannabinoids" JWH-018 and JWH-073 that were originally developed for medical research and simulate the effect of cannabis on the brain. How well the stuff actually works is up for
debate
but
some scientists
say it could be used to treat neurological disorders.
Many local head shops say the product is a best seller and the new law only hurts small business owners, a belief
echoed
by St. Louis
Rep. Mike Colona
.
Other officials say K2 is destroying the minds of the Show-Me State's youth and a law prohibiting the evil herb is a matter of public safety.
Sen. Kurt Schaefer
said the substance ought to be "
treated like methamphetamine"
and possession should be a Class C felony.
Alternatives
to K2 designed to skirt the new laws have already appeared in Kansas, which outlawed K2 earlier this year.