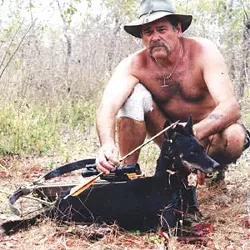 Authorities are looking for someone like this.
I didn't know such a sport was legal, but apparently it's dog-hunting season in Missouri. How else to explain the record number of canine shootings to make headlines in the Show-Me State this month?
The most recent
occurred yesterday in Jennings
in north St. Louis County. As the Humane Society reports, a five-year-old pit bull named
Roc
was discovered by its owner shot in the shoulder. The dog was rushed to the veterinarian where it's expected to make a full recovery.
Still, the question remains: Who shot Roc?
The Humane Society is offering a $2,500 reward for information that leads to the conviction of the perpetrator. Or is "poacher" a more accurate description?
The Jennings incident yesterday follows news this month that at least two pooches have perished recently in other dog-shootings in Missouri. The
first
in Bellefontaine Neighbors. The
second
in Columbia.
So, is it dog season in Missouri? Or are we to believe that these shootings are all coincidental? Oh, and do all dogs
really
go to heaven?