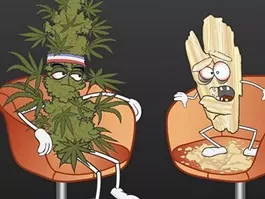 Meth and Marijuana: a match made...absolutely nowhere.
His name is
Limey Nargalenes
(no, really that's his name) and he is trying to stop the Illinois General Assembly from passing
Senate Bill 1381
.
The law would allow primary caregivers for people with "debilitating medical conditions" to prescribe up to two ounces of "dried usable cannabis" and seven plants.
If the bill becomes law (looking
unlikely
at this point), Illinois would become the fourteenth state to legalize medical marijuana.
Of course, Nargalenes -- and the Illinois Association of Chiefs of Police -- doesn't want that to happen. Here's what
he told the State-Journal Register
in Springfield
:
"There's a lot of stuff in marijuana that's not good for you..It's like people taking meth. People feel a lot better after ingesting methamphetamine."
Popular pot blog
Toke of the Town
characterized Nargalenes' remarks as "one of the most ridiculous statements ever made about medical pot."
This video also illustrates the absurdity of his argument nicely: