Graduation is a bittersweet time for college seniors. The Washington University senior class council is trying to ease the pain this year by bringing the Class of 2010 together this Sunday, May 16, to set a Guinness World Record: the world's longest massage chain.
The previous record, 617 people, was set in 2001 in Halifax, Nova Scotia. Fernando Cutz, the senior class president, is confident that Wash. U.'s 1,480 seniors will be able to beat that easily. Guinness requires that the massage continue for three minutes -- shoulders only.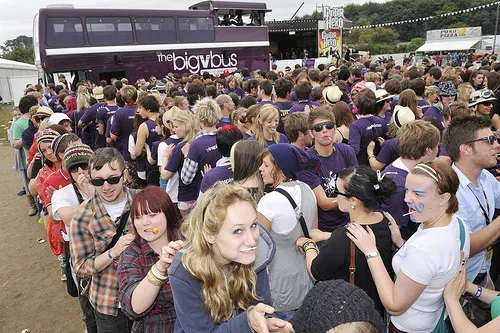 The current record-holders for the world's longest massage chain, a record Wash. U.'s seniors hope to obliterate on Sunday (with or without funny mustaches).
"We wanted to get together as a class, to really bring the class together and have fun and have something we could all look back on and remember," Cutz explains. "We thought, well, let's try to break a world record and have our name in the record books."
The senior class council invested a great deal of thought into which world record they were going to attempt to break. "We were going to put Mentos into Diet Coke bottles and explode them," says Cutz. "Coca-Cola was going to donate the product. But we didn't think we'd get that big of a turnout. It's non-interactive: You just show up and put Mentos in a Coke bottle."
A massage chain, on the other hand, encourages touching and communicating and possibly even engenders that most beloved of Senior Week traditions, the last-minute hookup (though Cutz declined to comment on the latter).
The class council deemed it too expensive to fly a Guinness judge in from New York, so fifteen trusted community members will supervise the proceedings. Cutz is not sure who these people will be -- "maybe alums or parents of current students" -- but he knows they will not include university personnel like Chancellor Mark Wrighton.
"Guinness wouldn't let us," Cutz says. "They say [university people] would have an inherent bias."
The record-breaking begins on Sunday at 1 p.m. at the university's Francis Field (or the Athletic Complex, if it rains). Even if it turns out as unsuccessfully as the recent attempt at the world's largest bikini parade, Cutz is confident the attempt will be part of the legacy of the Wash. U. class of 2010.
"The new senior class council has already been elected," he says. "They really like this idea. They're planning to do a record next year."