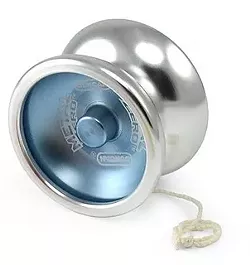 Have you heard yet about K-Strass, a.k.a. Kenny Strasser, a.k.a. Karl Strassburg a.k.a. the guy driving around the Midwest and showing up at morning news shows to demonstrate his yo-yo tricks?
He claims he's a yo-yo champion, though his skills don't suggest that. He's more like a brilliant comedian. Last week Strasser appeared on KQTV's "Hometown This Morning," in St. Joseph, Missouri. As the
Milwaukee Journal Sentinel
recently reported:
"He got us," said Bridget Blevins, the station's news director. "I hate that we got duped."

And how good was he with the yo-yo, a skill Strasser has said made him a champion? "He did some really lame things. He hit himself in the face and the groin with his yo-yo," Blevins said.
Below is a video of Strasser performing recently at
Action 12 News
in Joplin...
View more videos at
Deadspin
.