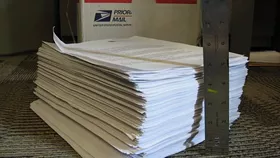 Photo by Nicholas Phillips
Five inches of blank pages! Thanks, federal government!
As part of some routine fact-checking for our current
cover story
on local Hispanic publisher
Cecilia Velazquez
,
RFT
requested her file from
U.S. Customs and Immigration Services
(USCIS).
And what a response we got! No less than 1,102 pages of documentation were identified as relevant. However, citing privacy rules, the feds withheld 1,063 of these pages, or 96.4 percent, of the file. BUT THEY STILL SENT ALL THE BLANK PAGES.
We don't fault USCIS for adhering to rules protecting an individual's privacy. In fact, we expected them to do so. But mailing us 1,063 blank pages, apparently at taxpayer expense, does nobody any good. Except in one respect: we might be using them for printer paper. So thanks, in a way, to Uncle Sam!