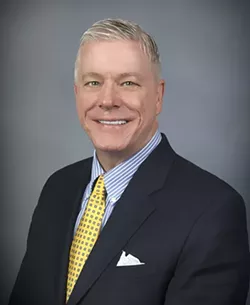 Kinder has set up a limited-liability company to fund his lawsuit.
Updated at 11:50 a.m. with reaction from the lieutenant governor's office.
The headline above is the question the Missouri Democratic Party is asking of the state's top Republican, who last month
announced his plans to file a lawsuit
to stop federal health care reform.
In a
statement yesterday
,
Brian Zuzenak
(head of the Democratic Party) called on Lieutenant Governor
Peter Kinder
to disclose information about the individuals and businesses who have donated to his lawsuit.
"Lt. Gov. Kinder wants to stop a proposal that will help hundreds of thousands of Missourians get access to health care, but the real question is who is helping him fund his frivolous lawsuit?" says Zuzenak. "Missourians deserve to know if Peter Kinder is allowing his office to be subsidized by the insurance industry or candidates who want this law repealed. Instead, up to this point, all of that information has been hidden from the public."
Kinder has set up a limited-liability company to pay for his lawsuit called
Health Care In Action
, that allows individuals or companies to donate to the lawsuit through a
website
.
Under its current structure as an LLC it seems that Health Care in Action is not required to file with the Missouri Ethics Commission and no records of the company exist in the commission's online database.
Gary McElyea
, Kinder's spokesman, tells
Daily RFT
that the LLC ensures that Missouri taxpayers won't pay for the lieutenant governor's lawsuit and adds that many legal funds are established in a similar manner. Meanwhile, McElyea states that Kinder is working on behalf of the majority of Missourians.
"While the Missouri Democratic Party is busy promoting this failed experiment in health care reform, Lt. Gov. Kinder is at work making sure the voice of Missourians are being heard," says McElyea. "A Rasmussen poll released on Tuesday reported that 62% of Missouri voters favor repeal of Obamacare. We have already heard about the crippling effects this bill will have on Missouri businesses in a time when our number one priority is job creation."
McElyea says he does not know how much money Health Care in Action has raised to this point, but says more than 100 people have contributed.
"It is my understanding that (Kinder) will communicate with his donors over the coming weeks and plans make the list of donors accessible later this summer," says McElyea.
Kinder plans to file his lawsuit in the next coming weeks. Until then, it's somewhat unclear whether he'll be suing on behalf of himself or the state. If it's the latter, it would appear to violate
state law that allows only the attorney general to file suit
on behalf of Missouri.