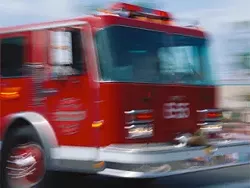 Residency bill has Francis Slay seeing red.
A bill crafted by State Senator
Jim Lembke
(R - south St. Louis City/County) would allow St. Louis firefighters to live outside the city.
The bill (
SB739
) passed the House and Senate yesterday and basically gives city firefighters the same residency requirements as city police officers. That is, after seven years of service, firefighters may move outside city limits provided they live within an hour's drive of work. Governor Jay Nixon still needs to sign off on the bill, and that's not guaranteed.
Meanwhile, Mayor
Francis Slay
and some St. Louis members of the state legislature
argue that city voters are the only people
who legally have the right to change the residency requirement and alleged that Lembke has overstepped his bounds.
But here's the deal: Lembke's bill gives Slay a way to defeat the proposed legislation.
The bill is only effective "if the only public school district in the area has been unaccredited or provisionally accredited in the last five years of the person's employment."
That's right. Fix the schools and all this bickering about residency requirements becomes moot.