John McCain managed quite a feat this week: He somehow got both Glenn Beck and John Stewart to agree with each other. The issue? How flat-out wrong the Arizona senator is when he says that U.S.-born people merely suspected of being terrorists should be denied their Miranda rights.
Agree with McCain? Well, before you hop on the Police State Express, don't forget about Kit.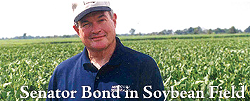 Nope, no terrorists out here!
"We've got to be far less interested in protecting the privacy rights of these terrorists than in collecting information that may lead us to details of broader schemes to carry out attacks in the United States," Missouri's senior Senator Christopher "Kit" Bond told the New York Times on Tuesday.
Both senators are referring to, of course, the case of Faisal Shahzad's botched attempt to detonate a car bomb on Saturday in Times Square. Turns out Shahzad wasn't read his Miranda rights immediately, anyway, until pressing questions regarding imminent threats were answered.
Bond, vice chairman of the Senate Intelligence Committee also voted "No" in 2006 on a bill to preserve habeaus corpus for detainees at Guantanamo Bay, so his comments this week regarding the legal rights of people suspected of terrorist acts should come as a surprise to, well, nobody.
And if you missed it, here's the rare occurrence of Stewart and Beck agreeing with each other: