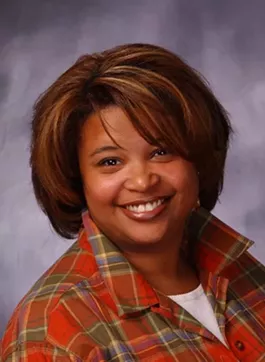 Maria Chappelle-Nadal is smiling but really she's outraged.
Last week, we reported on
HB 2449
and
Rep. Mark Parkinson
's plan to propose a strict new immigration law in Missouri similar to the one recently enacted in Arizona.
On Monday, the Republican from St. Charles
explained
that he introduced the bill because 95 percent of his constituents want him to "get tough" on illegal immigration and that he wants to "make sure the people who are employed in Missouri are first and foremost citizens."
Today, in honor of Cinco de Mayo, one of Parkinson's colleagues on the Missouri House Committee for Immigration Reform volunteered to explain why HB 2449 is tantamount to "legislative idiocracy."
Rep. Maria Chapelle-Nadal
is a Democrat from University City and a member of the National Hispanic Council of State Legislators. Needless to say, she's not a fan of Parkinson's work.
Sit down, fix yourself another margarita and savor the flavor of one pissed-off politician completely eviscerating the ideas of another:
Chappelle-Nadal sent this message via e-mail last night:
After six years in the Missouri General Assembly, the legislative idiocracy we deal with at times still amazes me.

Last week the Missouri House Committee on Immigration Reform heard House Bill 2449, which is similar to controversial the anti-immigration law Arizona recently enacted. Usually these hearings have a fair amount of people to testify on each side of the issue. Surprisingly, aside from the bill's sponsors no one testified in favor of this ill-advised bill. By contrast, the room was filled with opponents.

In fact the substitute language to HB 2449 Provided but not considered - included the exact measures that are within Arizona's new law. By offering this language -- and accounting for its possible passage in future sessions -- Missouri would be dangerously entering territory where we have no business entering because immigration enforcement is a matter of federal jurisdiction. Neither Missouri, Arizona nor any other state can enact statutes that override federal laws or the U.S. Constitution, and attempts to do so will result in expensive court challenges that Missouri cannot afford to defend against and can not win.

The language in HB 2449:


Does not provide correct references to federal statutes.
Does not account for the amount of time and money local enforcement authorities would have to incorporate into their limited budgets for enforcement actions unrelated to state or municipal law enforcement.

Does not have a measure to protect religious and goodwill organizations from providing their service-focused missions and, in fact, would subject many private and charitable organization to potential criminal charges.

Provides no range of monetary or incarceration penalties and effectively creates new, unclassified felony crimes punishable by a range of imprisonment of at minimum one year and as long as life in prison (the related provision provides no maximum sentence) or a range of monetary fines of not less than $1000 with no maximum fine stated.

Does not account for the time it may take to identify one's legal status, which may equate to high expenditure on local enforcement agencies and is a task local law enforcement agencies are untrained and unequipped to handle. It would effectively force each municipal and state enforcement agency to consult with ICE in every circumstance of every arrest to identify the legal status of those being transported or transporting themselves.

Does not distinguish human trafficking for servitude using coercion and intimidation with human trafficking for employment purposes. These are two separate issues with two distinct laws. Accordingly Rep. Parkinson's HP 2449 proposes changes that have no place in the Missouri Anti-Trafficking Statute.

Does not address the fact that a person accused of being (but not proven to be) an undocumented immigrant has a right to transport themselves to court proceedings and, in fact, is commanded by the Federal Immigration Court to "transport himself" to and from court in Kansas City, Missouri.

Uses the term "illegal immigrant" to name a person who is a victim of smuggling or trafficking further victimizes those individuals while making it more difficult to provide services and support for them.

Would require all Missourians - landlords, teachers, librarians, bus drivers, etc. - to become immigration agents or experts at identifying who is undocumented or simply not employ, assist, lend rides to or show any other manner of humanitarian aid to any person speaking a foreign language or with a foreign accent.

Would lead to increased racial profiling and/or may lead to increased vigilantism by MO hate/militia groups.



At the very least Missourians expect legislation that will be clean of any legal challenges and treat all people with dignity and respect, not prima facially as criminals. Right now, Arizona is facing a litany of these challenges to its new law and may well end up in court challenges for a very long time.

As a member of the National Hispanic Council of State Legislators and the Missouri Legislative Black Caucus, I denounce Arizona's new law and any effort Missouri takes to replicate a law that has many weaknesses and a strong possibility of getting tied up in federal courts for a long time.

Rep. Maria Chappelle-Nadal
D-University City, MO