Emily Good
St. Louis sex blogger The Beautiful Kind had her cover blown on Twitter -- and lost her job.
Two months ago Riverfront Times featured local pseudonymous sex blogger The Beautiful Kind as part of our "Bloggers Bakers Dozen [scroll down]."
"The Beautiful Kind might make you blush," RFT's Kristen Hinman wrote of the blog. "Or it might make you barf. All depends on what the polyamorous, BDSM, swinging, all-around-sex-lovin' 'TBK' has been up to within the last week. A single mother who does more than kiss and tell, TBK thinks of her blog as 'a safe haven for perverts.' Everyone's welcome. Nothing's off-limits. As she puts it, 'I'll try everything, except for children. Pedophilia -- no way.'"
Live by social media, die by social media. Last week her blog cost TBK her job.
Where once The Beautiful Kind reposed, resplendent in lacy lingerie, chronicling the ins and outs of her polyamorous escapades, her blog now consists of a note from her "web guru" stating that "the site will remain closed until further notice" and implying that the virtual drapes have been drawn because the author's virtual fig leaf of anonymity had been stripped away.
As it turned out, said outing had gotten her fired. When she arrived at work last Tuesday, April 27, TBK tells RFT, she was terminated on the spot.
The cause: "a Twitter glitch" that came to light when her boss, at the suggestion of top management, performed Google searches seeking information about employees.
"My boss said that they couldn't be associated with anyone who was posting graphic images and erotica, and they wanted me to pretend that I never even was there; they want nothing to do with me, they want to act like it never happened," recounts TBK, who had been in the position about a month.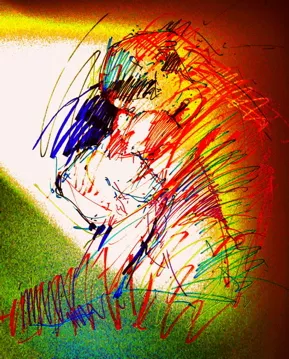 Henryk Ptasiewicz
A single mom, TBK has supported herself in part by modeling for artists.
Declining to name the employer, she reveals only that that the organization is a nonprofit, and that she had been hired part time to do "office work" with the understanding that the position would soon go to full time. "They're something I really believe in and I really, really still believe in it and wish them the best and all that," she says. "And I understand why they did what they did, but it's still pretty crazy unfair. It's really lifestyle discrimination."
Following her termination, her former boss sent her a letter that stated:
"We simply cannot risk any possible link between our mission and the sort of photos and material that you openly share with the online public. While I know you are a good worker and an intelligent person, I hope you try to understand that our employees are held to a different standard. When it comes to private matters, such as one's sexual explorations and preferences, our employees must keep their affairs private."
Must they?
It depends, says Tony Rothert, legal director of the American Civil Liberties Union of Eastern Missouri.
Rothert points out that if her boss had merely been concerned about the public at large connecting the dots from the blog to TBK and thence to her employer, the issue could have been addressed by TBK eliminating the "Twitter glitch" or, perhaps, taking down the blog.
"The fact that they didn't do that and instead just fired her causes one to believe that it really is the content that they had a problem with, and not really that they were concerned about a connection between her blog and the employer being made in the public," he says.
The letter from her boss, coupled with TBK's version of events, would seem to confirm Rothert's suspicion. "I was really Clark Kent about it," the 37-year-old single mother says of her effort to separate her work from her extracurricular activities. "I dressed like a freaking Mormon when I went in. I was really overcautious and did an extra-good job. Because I always thought that if they ever did find out about it, I would have proved myself so much that they would weigh the pros and cons and decide to proceed a certain way that, you know, wouldn't fire me. But I wasn't there long enough to do that, and I don't think it would have made a difference anyway, with the way they reacted. It's like -- I went from good employee to monster."
Rothert isn't surprised.
"One of the unfortunate things is that a lot of people are uncomfortable about unconventional sexuality, especially when a woman's involved," says the ACLU attorney. "That is not an employer's job -- to police the sexual lives of its employees -- and when an employer discriminates on that basis it is sex discrimination and it's against the law."
He's careful to note, though, that because TBK has not been specific about the circumstances, it's impossible to determine whether her former employer crossed the line.
At least temporarily, TBK finds herself without a job or a blog, the latter of which had never been a source of income.
"I don't make any money from my blog," she says. "I wish I did. I used to have a PayPal button and made about $40 a month that way, but they suspended my account for having adult content. As a result I've done all kinds of crazy things this past year to pay my bills, such as dog sit, pose nude for art classes and submit myself to medical research. That's why this job was such a godsend. I felt such relief, I felt human. I was very excited to have benefits."
Last Friday she posted a statement about her quandary on another blog, aagblog.com, which closed with a request for advice:
"I've had an outpouring of support from my friends, fans, and fellow sex bloggers around the world, and that has been extremely heartening. I know I'm surrounded by awesome good energy, and I want to harness it. From the bottom of my heart, I thank everyone who has reached out to me and expressed concern. I am fine in body, but rumpled in spirit.
"Let me ask you this -- what would you do in my situation? Have you been in the same boat? Should I kill TBK? Would that even matter with this tangled web we weave? Or should I "come back fast and fierce," as someone urged me to do? How can I make a living? I know a lot of my friends in the sex industry display their face and real name, and they've acknowledged that once you go there, you can't go back. They have limited their options, but they don't regret it.
"I love my rich and beautiful life, but I don't really know how to LIVE in this society. Any tips on how to live are appreciated."