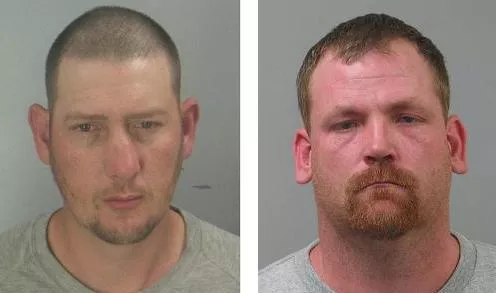 Firecrackers: Patrick Dewey (left) and Franklin "Daniel" Clark
The latest incident in a long-standing feud between three Fenton-area men ended yesterday with a bang (literally).
According to police, suspects
Patrick Dewey
and
Franklin "Daniel" Clark
of St. Louis County allegedly placed a pipe underneath the truck of a man living in the
700 block of Caliph Drive
of Jefferson County yesterday morning. The bomb exploded, damaging a 2000 Dodge van but leaving the owner of the car (who was inside his home at the time of the incident) uninjured
The investigation led police to the Fenton home of Patrick Dewey where St. Louis County police discovered a second pipe bomb.
Captain Ralph Brown with the Jefferson County Sheriff's Department tells
Daily RFT
that the suspects (who room together) were once neighbors with the victim. The three later became enemies over some kind of "domestic issue."
"They recently ran into each other and the on-going feud escalated from there," says Brown.
Dewey, 32, and Clark, 39, have each been charged with unlawful possession of an illegal weapon and knowingly burning or exploding such a weapon. They remain in custody in the Jefferson County Jail each on a $10,000 bond.