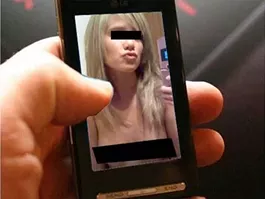 The phone of an Illinois lawmaker or an Illinois teenager?
Under current Illinois law, if a sixteen-year-old girl takes a revealing picture of herself with her cell phone camera and sends the pic to her seventeen-year-old boyfriend, it's possible that both of them could be arrested and charged as a sex offenders.
But
a new bill
, passed 52-0 by the state senate and sent to Gov. Pat Quinn for approval, would lessen the penalty to mandatory counseling and community service. The proposed law, which applies to anyone under 18 who sends nude photos via cell phones or computers to another minor, makes special exceptions for kids who keep the racy pictures to themselves rather than forwarding them to the entire senior class.
Lawmakers say the bill "modernizes" the state's child pornography statutes for the Internet era. A recent
Pew study
found that nearly 15 percent of American teenagers have "received nude or sexually suggestive photographs" on their cell phones.
The Land of Lincoln also had a pair of high-profile sexting incidents earlier this year.
The
Chicago Tribune explains
:
The sexting phenomenon surfaced in the suburbs in December when Plainfield police launched an investigation after a 16-year-old honors student at Plainfield East High School sent a nude photo of herself to a classmate, who forwarded it to several friends.

A January case in Valparaiso, Ind., was opened when a teacher discovered a phone in which a 12-year-old boy had sent a nude picture to a 13-year-old girl, according to police.

Kids these days...