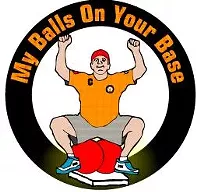 One of the more family-friendly team names and logos with the BigBalls league.
It's that time of the week again. Time to vote for the biggest ass clown(s) of the past seven days.
This week doesn't it really boil down to the
kickball league banned from Tower Grove Park
for
unruly behavior
and everyone else?
We think so. So, tell us: Who's this week's
Daily RFT
Ass Clown of the Week
?
Continue on to cast your vote!