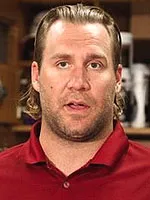 So I'm sure everyone has heard by now that
Ben Roethlisberger
has received a conditional six game suspension from the NFL for violating the league's behaviour and conduct policy.
Personally, I'm shocked Commissioner Roger Goodell came down as hard as he did on Roethlisberger. I was expecting a weaker response in spite of the fact this isn't Roethlisberger's first brush with the law, and not even close to the first incident of mind-numbingly idiotic and irresponsible behaviour. Shocked, but pleasantly so. I do still have one problem with it, though.
I can't stand the conditional part of the suspension. To me, the whole, "Well, we're going to say you're suspended for six games, but if you manage not to screw up any further between now and the beginning of the season, we'll make it four. Hell, we might even make it three. Or two. We just want you to prove you can go four whole months without making a complete asshat of yourself and, you know, raping any college girls," way of handling the problem is just an excuse for Goodell to pussyfoot around making an actual decision.
Still, the suspension looks as if it will happen, which is a good thing. I know there are plenty of people out there coming out in support of Roethlisberger, many of whom are waving around the fact he wasn't charged with a crime as some sort of proof the suspension is unwarranted. The main reason he wasn't charged with a crime is because the investigation was handled in such a slipshod manner, to the point
a janitor was allowed to scrub the bathroom
in which the alleged assault took place before police had properly processed the scene. Regardless of the incompetence of investigators, Roethlisberger's behaviour is a huge black eye for the NFL, and he deserves all that's coming down on his head and more.
So am I satisfied with the punishment? I suppose so. Four games is a substantial suspension; a full quarter of a team's season down the drain. Still, the conditional part just rankles. Maybe it shouldn't, but it does. Goodell had no problem throwing the book at Tank Johnson or Pac-Man Jones, but both times he's been called upon to render a decision on a player who actually moves the needle in the NFL -- first Michael Vick and now Big Ben -- he's gone to this weak sidestepping routine of tossing out a number that sounds impressive at first until you realize it'll be reduced substantially if the player in question can just quit being an idiot for a couple months.
Four games is a lot of money and a lot of playing time. I just wish that if the commissioner feels the conduct warrants six games, he would make it six games instead of trying to convince us it's six when he really means four.