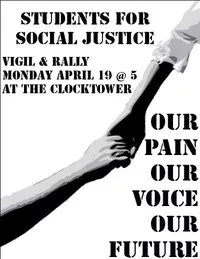 SLU Students for Social Justice
It's not been a good year so far for Saint Louis University's reputation as a tolerant place to go to school. Racial slurs have been scrawled on walls and a student's door was vandalized. Another student was called a nigger and threatened with a lynching. A cross decorated by the Rainbow Alliance, a LGBT group, was stolen. Most recently, two student government leaders resigned after photos of them posing with a makeshift noose went public.
Tonight a group called Students for Social Justice plans to take action. At five p.m., they will gather at the clocktower at the center of campus. "It's a collective effort to stand up against acts of supremacy and hate," says Kalé Zainab Kponee, a senator in the student government.
The students have been planning the rally since the first incident back in February. "It took a while for students to find out what was going on," says Kponee.
The same group launched an e-mail campaign late last month, sending 120 e-mails to campus officials demanding that some action be taken. They also sent a list of eight demands, including a new 24-hour hotline to assist students who feel threatened, immediate notification for students when discriminatory threats occur and the establishment of a standard protocol for dealing with hate-related incidents.
"It seems the administration is just kind of like they know what they are politically supposed to say, and I want them to feel uncomfortable," senior Tianyi Li told the National Student News Service. "I want them to feel embarrassed that they haven't done their job."
SLU administrators acknowledged the e-mails, but seemed puzzled as to what had motivated them.
"I really didn't know what the motivation was to start the emails now in terms of timing, because we had not heard of any new incidents, so I didn't quite know what their motivation was," Manoj Patankar, the Vice President of SLU's Frost Campus told NSNS. "But as the number of emails built, clearly it is a serious issue from the perspective of students."
The students say they're upset by all the recent strife on campus. As the rally's organizers wrote on their Facebook page,
The past few months have been difficult for many reasons for SLU students...

Members of our community have been attacked because of race, sexual oreintation [sic], and other marginalized identities...

In some ways our community fractured....as we chose sides of who was right, wrong, and indifferent...

We felt pain for our friends involved...

We have struggled to listen, to be angry, and to witness that anger....

And as we struggle to understand why people have been hurt and students have acted in way we may not understand we know that how we as a community deal with our reactions define who we are....
So far, more than 200 students have confirmed they will be at the rally.
"The campus is in a buzz," says Kponee, the student senator. "I think people are really coming together."