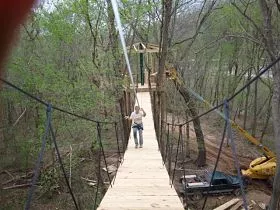 courtesy of Meramec Caverns
A worker puts the finishing touches on the Caveman Zipline.
Devoted watchers of the reality show
The Amazing Race
are no doubt well-acquainted with the zipline: Someone straps you into a harness attached to a pulley, and then you go whizzing down a wire at high speeds over some pretty spectacular scenery.
On TV, that scenery is usually in some amazing locale, like Australia or Singapore, not the
Meramec Caverns
. But, on the bright side, the one-hour-fifteen-minute drive down I-44 to Stanton is far less arduous than a long-haul international flight.
"We're constructing four separate ziplines," Lester Turilli, Jr., manager of the Caveman Zipline, said in a statement, "plus three swinging rope bridges. There are two towers on the side of the cave entrance and six across the river."
The four ziplines will range from 250 to 1200 feet long, all at a height of about 80 feet over the river and bluffs and moving as quickly as 50 miles per hour.
The Caveman Zipline will be open for business on May 1. It will cost $49 for cavemen and -women to zip and $39 for cavechildren 11 years old and younger. This includes all safety equipment, individual instruction, video tutorial and a dry-run mini zip. Call 573-468-3166 for reservations.