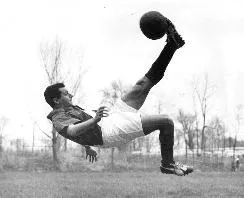 Ruben Mendoza performs his signature move, the bicycle kick
Ruben Mendoza, a legendary soccer player and coach from St. Louis, died Sunday at the age of 78. He was a three-time Olympian and a member of the St. Louis Soccer Hall of Fame.
Mendoza was perhaps best known locally as the owner of Mendoza Sporting Goods and the coach of some of the area's top soccer talent in Granite City, where he lived. Players he coached or developed in youth leagues won
the Illinois high school state championship
in 1972 and each year from 1976 to 1980, then again in 1982, 1987, 1989 and 1990.
Yet his biggest claim to fame was his role with the U.S. National Team in the 1950s.
U.S. Soccer Players
writes in their obit:
Mendoza played in four games for the senior National Team, scoring two goals. He scored on his debut against Haiti in a 3-0 win in Port-au-Prince on April 4th, 1954.

In an era where the National Team only scheduled a few games, he appeared in all three World Cup Qualifiers for the 1958 World Cup. His second goal came in his final appearance for the US, a 3-2 loss to Canada on July 6th, 1957 in St Louis. Mendoza was also part of the 1952 and '56 Olympic teams.

At club level, he played the bulk of his career with St Louis club Kutis. They were the 1957 US Open Cup champions, an honor that carried with it a unique prize. It was Kutis, a team with most of the big names in St Louis soccer, appearing as the United States National Team in the '58 World Cup Qualifiers.

He was born in St. Louis but his family moved to Durango, Mexico. He lived there from ages 8 to 16 and studied soccer in the famed Atlante youth system. He returned to St. Louis in 1947 and starred with several local clubs, which were then
among the strongest in the United States
. He was elected to the St. Louis Soccer Hall of Fame in 1984.