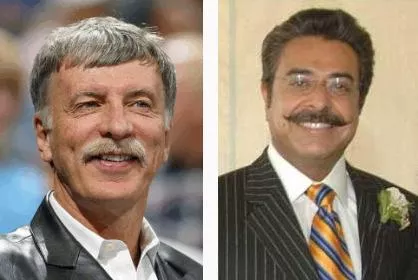 Stan Kroenke boasts that There Will Be Blood 'stache suggesting a shrewd business tycoon who you do not want to fuck over -- if you know what's good for you. Khan, meanwhile, sports a dashing, almost regal, mustache suggesting a fun-loving man who knows how play and work hard.
If you haven't heard already, Rams minority owner
Stan Kroenke
is challenging NFL rules to gain full ownership of the St. Louis football team. His move leaves in the lurch Illinois businessman
Shahid Khan
who
emerged two months ago
as the man most likely to purchase the club.
Kroenke must now convince NFL owners to change the league rule that prohibits someone like him (who owns the Colorado Avalanche and Denver Nuggets that compete in a city with an NFL franchise) from owning a football team.
Here at
Daily RFT
we think these men should let their mustaches do the talking with the man with the best 'stache earning the rights to the team.
What do you think readers? Which man -- based on his mustache alone -- should be the rightful owner of the Rams? Cast your vote vote after the jump!