Two members of the Saint Louis University Student Government Association resigned yesterday after a photo of them posing with a noose and a sign that read, somewhat cryptically, "Only for use on white people!" came to the attention of the rest of the university earlier this week.
Seniors Robert Moehle and Ben Orr posed for the photo in the spring of 2008 and posted it on Facebook last July. (It has since been removed.) The university administration caught wind of the photo this past Monday and issued a statement that an investigation was underway.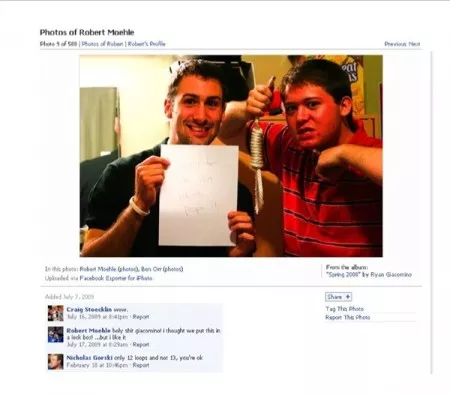 Robert Moehle holds the sign, which reads "Only for use on white people!"; Ben Orr holds the noose.
Meanwhile, SGA president Michael Harriss asked both Moehle and Orr to resign from their posts; Moehle was financial vice president and Orr was a senator. The student who took the picture, senior Ryan Giacomino, also resigned from his position as University News photo editor.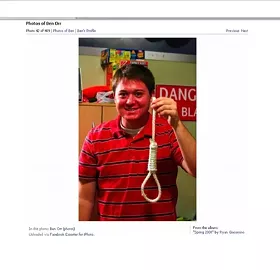 Orr alone with the noose.
"We were being immature and thought our joking was harmless," Moehle said in a prepared statement. "I am truly sorry for the impact on my fellow students and the Association. This is an important learning experience for me, and I hope perhaps for other members of our community as well."
"I know that what I did was wrong, regardless of the context, and I apologize," Orr added in his own statement.
Neither Moehle nor Orr attended last night's student government meeting due to a previously-scheduled academic conference in Kansas.
This isn't the first incident that has troubled minority groups at SLU in recent months. There have been several reports of racial slurs scrawled on walls. In February, a student claimed to have been threatened with lynching during an argument. Also in February, a cross belonging to the Rainbow Alliance, a GLBT student group, was stolen.
Two University of Missouri students were suspended after decorating the front lawn of the school's African-American cultural center with cotton balls, which was understood (by some) to be an allusion to cotton picking and slavery.