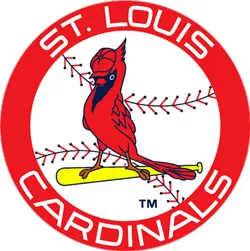 Well, I think it's pretty clear by now the 2010 Cardinals aren't going to lose a game this year. I can honestly say, after viewing them for two entire games all the way through, this may be the single greatest athletic entity in the history of the world. Move over, '27 Yankees, the Cardinals are the train and you're on the tracks.
Okay, maybe I'm overselling it. A little. But not much. I do think this offense has a chance to be very, very special. The middle of the lineup isn't quite up to MV3 standards, but it's pretty damned close.
-- Early in the game, the television broadcast showed
Mark McGwire
sitting in the dugout with his little glasses on. He sort of looked like someone's grandmother, and I half expected to see some knitting in his lap. Don't get me wrong; he's still a pretty massive sort of guy, so it wasn't
exactly
like someone's grandmother. Actually, he kind of looked like a peaceful old grandmother who is just waiting for an international group of terrorists to break in and take over so she can kick some ass.
Steven Seagal's
grandmother, maybe. "You bastards think you're going to come in to
my
clubhouse, and tell my players to swing early in the count? I don't think so." There we go. That's what I'm looking for.
-- I was impressed with Adam Wainwright, considering how tough he had it early last season. His delivery looked sharp, his stuff was mid-seasonish, and he definitely had that gunslinger thing going on when he made Joey Votto look like a ballerina in the midst of a seizure on a 3-1 curveball.
All that said, I do have to object to Wainwright's pitch selection against Orlando Cabrera in the sixth. In the at-bat, which ultimately resulted in a home run to left, Adam came inside with a fastball three different times. Each of the first two times Cabrera hit frozen ropes foul down the left field line. The third he deposited in the left-field seats. What I have an issue with is that Cabrera was clearly right on those pitches, hammering both of them, and just couldn't keep the ball fair. I just don't agree with throwing a third pitch in the same location to a hitter who has already hit two extremely hard. Perhaps that was the scouting report, to beat Cabrera with hard stuff in. If it was, the report needs some tweaking, I believe.
-- Memo to David Freese: Stop swinging at pitches shoulder-high and inside. Twice he succeeded in driving in runs, but two other times at bat he was beaten, badly, on pitches at least a foot or two out of the strike zone up and in. You don't have to swing at those, David. I promise the umpire isn't going to make you go home if you just stand there and take the pitch. Then again, plenty of the Cards' right-handed hitters seemed to have the same problem with Johnny Cueto's fastball, so maybe it says more about the pitcher than the hitter.
-- We're only two games into the season and I've already been forced into screaming at my television thanks to a Tony La Russa bunt play. Bunting with Colby Rasmus in the seventh was just a terrible decision. The run expectancy with a man on second and no one out is 1.18 runs; with a man on third and one out it goes down to .83 runs. By bunting there - and that's to say nothing of the fact La Russa took the bat out of the hands of one of the Cards' two hottest hitters so far this season - the Cards' chances of scoring in that inning actually went down. Thankfully Freese came through with a flared base hit; otherwise I'd really be bitching about this. And no one wants that.
-- I honestly don't know if I'm going to be able to survive a full season watching this bullpen pitch on a nightly basis. Already just two games in my sofa has new fingermarks permanently crushed into the armrest. I have virtually no faith in just about any member of this relief corps. Not Kyle McClellan, not Dennys Reyes, and certainly not Ryan Franklin. Maybe Trever Miller. Maybe.
-- On a related note, I actually watched the game with the volume on, as opposed to my usual drill of muting the television and putting on a Leonard Cohen record, and I was treated to Al Hrabosky explaining to me that Ryan Franklin told him the reason he wasn't sharp on opening day is because the lead was large enough it wasn't a save situation. Thus, Franklin apparently figured it was okay to just sort of lob the ball up there and let the Reds knock it around a little bit. He wasn't concentrating, you see.
At first I was just irritated to have to sit through another of Al's ridiculous explanations of How Baseball Really Works, but then I realised it's actually much, much worse if he's telling the truth. If Ryan Franklin really said as much, that he didn't try as hard because the game wasn't close, what does that say about Franklin? I don't care if there's some sort of Closer Mentality that tells you to show up only when things are close or not. You come into the game, your job is to get the opposing hitters out. Period. Not look up at the scoreboard and calculate how lazy you can be before things get out of hand. Am I the only one bothered by this?
-- It was nice to see Dusty Baker is already in mid-season form, leaving his young starting pitcher in the game to throw 110 pitches in his first outing of the season. Good luck, kid. You're going to need it.