move-on-up.org
Chris Arps
Updated: Friday 1:40 p.m.
The
St. Louis Area Young Republicans
are hosting their April meeting tonight with guest speaker
Chris Arps
.
Arps was also the guest speaker a couple weeks back out in west county when the
Wild Horse Township Republicans
invited him to speak to their group.
So who is Arps and why is he making the rounds with the county Republican clubs?
The short answer: As imperfect as Arps is (more on that in a second), he is one of the few conservative black leaders in St. Louis whose support could be crucial if
Bill Corrigan
(a white Republican) has any hope of defeating incumbent
Charlie Dooley
(a black Democrat) in the November race for St. Louis county executive.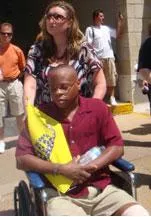 Kenneth Gladney, a couple days after his purported beat down.
In 2008, 59 percent of county voters cast ballots for Obama vs. just 39 percent for McCain. Arps's social networking website for black conservatives,
move-on-up.org
, could hopefully help recruit more votes for Corrigan.
That said, Arps and move-on-up.org didn't have the smoothest of debuts last August when they became involved in an epic fail withTea Party "patriot"
Kenneth Gladney
.
After Gladney, a black man, was
allegedly beat up by union thugs
outside health care forum, Arps paraded Gladney to the NAACP where he demanded to know why the civil-rights agency wasn't investigating the matter.
As the
Post-Dispatch reported back then
:
A conservative African-American social networking group set out Monday morning to criticize the city's NAACP chapter for not supporting a black man who said he was beaten outside a forum on aging earlier this month.

But the effort was cut short when the head of the civil rights group showed up at the news conference and said that no one had asked the NAACP to investigate the claims.

"The St. Louis branch of the NAACP will and does accept and investigate all written complaints filed with us, regardless of the complainant's ideology," said Claude Brown Sr., president of the St. Louis City NAACP. "We regret that a group has decided to protest outside our office before contacting us or filing such a complaint."
Prior to making news with move-on-up.org, Arps last
made headlines
when he signed on with Californian millionaire
Ward Connerly
to outlaw affirmative action in Missouri. That ballot initiative never really went anywhere.
A former staffer for former Senator
Jim Talent
, Arps has also made news for his criminal conviction for non-support of a child -- a conviction for which he
remains on parole
. He's also been sued three times by the Missouri Ethics Commission, according to court records, with two of the cases dismissed and Arps losing a default judgment for the third.
Today
Daily RFT
left a message with the president of St. Louis Area Young Republicans to ask exactly why the organization asked Arps to speak tonight and if it was aware of some of his past involvements. We haven't heard back from anyone yet.
Update:
The president of the St. Louis Young Republicans,
James Knowles
, called me back Friday afternoon from New Orleans where he's attending a national Young Republicans convention.
Knowles says he's unfamiliar with Arps legal past. In inviting Arps to speak to the YR's, Knowles says he'd hope that the move-on-up.org founder could share his knowledge of social media with the group. Knowles ads that Arps has never been tapped by the party to do minority outreach for local Republicans, which is handled by
Missouri Spectrum
.