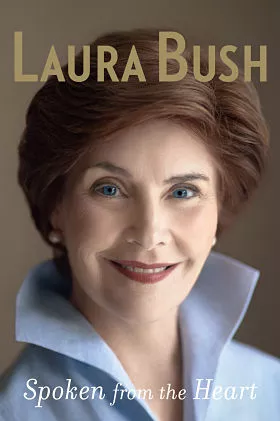 Admit it. Even before you read Curtis Sittenfeld's novel American Wife, a fictionalization of the life of Laura Bush, you wanted to know what was going on inside the former first lady's head.
Was she really a secret Democrat at heart? What was it that made George so gosh-darned attractive to this former librarian? What was the real story about that car accident that killed one of her high-school classmates? Was it possible -- maybe? -- that Karl Rove put her on some very powerful sedatives? (This theory propagated by an acquaintance who worked at the National Institute of Health and swore there was something funny about Mrs. Bush's eyes.)
On May 20, Bush will be coming to the St. Louis County Library headquarters at 1640 South Lindbergh Boulevard to discuss her new memoir, Spoken From the Heart. And, no, it's unlikely she'll answer most of those questions, but one can hope.
Bush's appearance will be a benefit for the library's teen centers and literacy programs. Accordingly, the cost of attendance is rather steep -- $90 -- though it also includes two admission tickets, a copy of the book and a one-year membership in the Friends of the Library society. The package goes on sale (sans book) next Monday, April 12, at library headquarters.
One more question: Sittenfeld, who lives in St. Louis, has pondered the life and enigma of Laura Bush far more deeply than most. Would she be involved in the fundraiser?
"No, we're not planning to have her involved," says Carrie Robb, the library's adult programming coordinator. "Everything would have to be approved by Mrs. Bush's staff. I don't think [Sittenfeld] would really be associated with that."