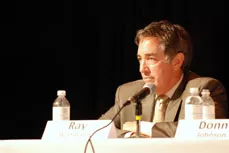 If you see smoke wafting out of the Randall Building at 3022A Cherokee Street on Saturday don't call the fire department. It's probably harmless.
The Missouri chapter of
NORML
-- the National Organization for the Reform of Marijuana Law -- is holding its annual spring conference in the space, which is normally occupied by
CAMP
(Community Arts and Media Project).
One of the featured speakers at the gathering will be
Ray Hartmann
, the founder and former publisher of
Riverfront Times
.
Hartmann founded the RFT in 1977 and sold the paper in 1998 to
New Times
, the RFT's current parent company, which merged with Village Voice Media in 2006. Hartmann's publishing company also owns St. Louis Magazine.
Other guest speakers at the NORML conference will include:
Redditt Hudson, ACLU of Eastern Missouri and former city police officer

John Coffman, ACLU lobbyist

Travis Noble, defense attorney

Dan Viets, national NORML board member and defense attorney

Don Yarber, mayor of Cottleville, MO

Mark Pedersen, director of the Cannabis Patient Network

Joseph Welch, defense attorney

The event is free and the public is encouraged to attend and discuss "marijuana reform, medical marijuana, marijuana patient's groups, civil rights, industrial hemp/biodiesel, and other issues key to ending the drug war."
Those hoping for a wild weed party should heed the warning on
the event's Facebook page
: "St. Louis has not yet decriminalized marijuana, and the local authorities are still prosecuting even responsible marijuana users."