Friends, for four weeks now, we've been watching Rod Blagojevich together on Celebrity Apprentice. It hasn't always been great -- actually, since every episode is now two hours, most of it is actually pretty damned boring, especially the parts where the celebrities meet the recipients of their charity and the camera focus gets all soft and the music gets all sappy. But then it always comes back to Rod. And Rod is a reality TV superstar.
Dalton Ross of Entertainment Weekly explained why in his recap of last week's episode:
The guy is a reality TV goldmine. Because reality TV is all about buffoonery, and Rod Blagojevich may just be the biggest buffoon in reality TV history. He's like the bastard lovechild of Joe Schmo and Coach from Survivor. He just walks around as clueless as clueless can be with his goofy grin on. Ignorance must truly be bliss because this guy seemingly has no skills whatsoever and is caught up in a huge political scandal, yet walks around like he just ate up a huge bowl of sunshine.
Precisely!
So it's a painful, painful thing that just as the world was beginning to realize Blago's genius, the man had to go and get himself fired. Again. But let it not be said that he didn't go out in style.
The fun began almost immediately when Michael Johnson nominated Blago to be the men's new project manager. Rod accepted the nomination gracefully. But in an interview, Johnson confided that he wanted to see what the governor was capable of, because "Rod has done nothing so far."
Trump announced that Blago and the women's project manager, Victoria's Secret model Selita Ebanks, would leave early the next morning on a special secret mission. "Are you okay with that, Governor?" he asked. "As long as I don't need a passport!" Rod said cheerfully.
And so before dawn, Blago and Ebanks boarded a limo in front of Trump Tower to take them to the airport. Blago attempted to use his political skill on his opponent. "Got a little chip on your shoulder because you're beautiful and you don't want people to think you're dumb?" he asked, oozing compassion. It was a little hard to tell, but it seemed to work.
On the airplane, though, everything changed. Trump appeared on a video screen Big Brother-style (Orwell, not reality TV) to inform the two project managers that they were on their way to Orlando to gather information for a 3-D interactive display to promote Universal's Wizarding World of Harry Potter theme park. They would be judged by a panel of young Harry Potter fans. Ebanks immediately turned on her laptop and began watching the promotional DVD sent by Universal.
Now let's give Blago some credit here. It appeared that since last week, he had learned to turn the laptop on. He still seemed mystified by its inner workings, however, and turned it over to see if there was anything hidden on the bottom.
"Communication is important," Rod told the camera solemnly. "I hope I'll get to use a phone." Unfortunately, the phone he was given appeared to be some sort of smart phone and was completely beyond him.
Back at home base, his teammates mocked him. "If Rod has to send an e-mail today," said Goldberg. "I sure hope there's a homing pigeon he can attach it to." Just for fun, Curtis Stone called up Blago's voicemail to leave a message that he knew the governor would be incapable of retrieving: "If anybody gets this, let Rod know we all love him."
Rod finally managed to get in touch with his team and informed Stone that they would have to build a 3-D interactive display. "What is that?" Stone asked, puzzled. "It's like a nativity scene!" explained Bret Michaels. On that basis, Blago appointed Michaels his deputy and gave a final instruction: "The whole world's watching, including Selita, so watch what you say."
Meanwhile, Ebanks sat beside the governor, diligently texting instructions to her team. Rod cheerfully admitted that texting was beyond him. (What is with this guy? Doesn't he have teenaged children?) "It's actually an advantage," he said, "because it gives me a chance to sit back and think. We will not win because of text-messaging or e-mails. It's an excuse for people to point fingers after."
Behold Blago's deep thinking on the plane ride back to New York:
In Blago's absence, his team had begun to build a reasonable facsimile of Hogwarts. It was true none of them knew the correct terminology for Whomping Willow, but Blago had assured them of his impressive knowledge of the rest of the Harry Potter universe, like that one of the four Hogwarts houses was called Hufflepuff and that they drank pumpkin ale. (Actually, pumpkin juice, but he was close.)
Meanwhile, Erin Burnett of MSNBC, Trump's deputy for the week, stopped by to see how the men were doing. Michaels (trying not to drool too visibly) explained that they were doing the best they could, despite lack of instruction from the project manager. "Can't he e-mail or something?" Burnett asked. The men informed her that Rod could not e-mail.
"He can't e-mail?" she repeated in disbelief. "There are so many jokes I could make right now." (Unfortunately, she didn't make any.)
But Rod, upon his return, was not pleased, for when he ventured to the back room, he saw Johnson and Stone eating what appeared to be barbecue ribs. "There was a little voice in my mind that maybe Bret could have had a little more help," he said, a bit self-righteously.
The following morning, Johnson and Stone set off for the prop shop to furnish their ersatz Hogwarts. "What kind of props do we need?" Johnson asked, sounding almost desperate. "Use your judgment, Michael," Blago replied serenely.
"He's a governor!" Stone exclaimed in an interview. "It's [bleep] unbelievable!"
Despite the lack of guidance and a conscious decision not to rehearse the presentation, it appeared to go well. Michaels did the introduction. Stone pretended to be a professor. Johnson was an "evil monk." Goldberg was, against his better judgment, the Whomping Willow. ("I begged and pleaded to be allowed to take my shirt off again instead of being a weeping whomper or whatever," he recounted plaintively.) And Blago was the headmaster, though not Dumbledore.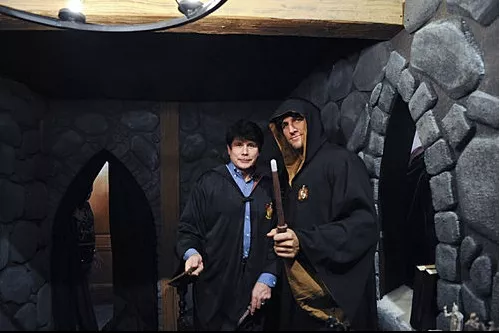 The wizarding world of Rod Blagojevich. (Is there any significance at all in that Curtis Stone's wand is bigger?)
And here was where the men made their fatal mistake. "This hat will tell you which class you should be in!" Blago announced grandly to each kid in the focus group, after the obligatory "Hey, how're ya doin'?" As anyone the least bit familiar with the Harry Potter books could tell you, the sorting hat doesn't divide young wizards into "classes." It sorts them into "houses." Duh! And kids are pretty particular about that sort of thing. (One also noticed that the voice of the Sorting Hat actually came from Goldberg.)
Universal executives are particular about other things. One asked Blago point-blank about the Dragon Challenge roller coaster. Blago stumbled for a few minutes, trying to cover up his ignorance, concluding: "The best thing about the dragon is that there's no fire!"
Needless to say, the men lost the challenge. In a task so dependent on communication, the governor was a terrible communicator. (There was also the napping thing. But Blago pulled out a quote from Winston Churchill on the value of napping. See? The man does not disappoint his fans!)
"I'm not surprised," said Johnson.
"Michael," Trump asked sternly, "do you like Rod as a person?"
"Yes," Johnson answered. "And I didn't think I would, before the show."
Again Trump launched into a lecture about how Rod was in a difficult position. "Rod won't get angry at Michael because there might be black jurors, or angry at Goldberg -- you are Jewish? You'd be the first person named Goldberg who isn't -- or Bret. You're in a tough position. I think you're a man of courage. I see people get in trouble and they want to go home to Mommy. I've seen them fold like a tent." Rod's eyes appeared moist.
But it was no time for tears. Instead it was time for verbose self-defense and a decision to bring Stone and Johnson back into the boardroom. Trump was shocked. Shouldn't Michaels go back, he asked, since he had played such a large role in the task? No, Blago said stalwartly. Stone said Michaels should go back in. Michaels said he should go back in. Trump begged Blago to reconsider. But the governor remained firm.
Out in the lobby, Johnson said, "That was a bad move."
Back in the boardroom, Trump gave Blago one more shot: He asked who was responsible for sorting out details like that Hogwarts has houses instead of classes. Blago hung his head humbly and admitted he should have asked the others to look stuff up -- even though he had been the one to visit the theme park. "But I know Harry Potter!" he cried desperately. ""Hufflepuff, Slytherin, Ravencloth..."
This was finally too much for Trump. With visions of falling ratings in his head (well one imagines, because Blago was the only one who made this atrocity worth watching), he finally spoke:
"Governor, I have great respect for you and your tenacity, but Rod, you're fired."
Blago went out exactly as one would have hoped he might: He reached across the table and shook Trump's hand and then, in the elevator, clapped the operator on the back. "Hey, how're ya doin?"
He really should have ended there; the farewell speech from the limo was cliched and uninspiring and included not one quote from a Victorian poet or political leader or protestation of innocence.
Goodbye Rod. We will miss you. We hope you get your passport back soon. There's a whole world of reality TV for you to explore! Are you, by chance, a hoarder? You're a little too mealy-mouthed for The Marriage Ref and a bit too slim for The Biggest Loser, but that's okay, because you might have a shot at the physical challenges on Survivor. Or imagine the fun you and Patti could have on The Amazing Race or with Wife Swap! Maybe you could get Eliot Spitzer, Mark Sanford and James McGreevey to join you in a disgraced gubernatorial version of The Real World. We'd totally watch that. And you wouldn't even have to get fired.