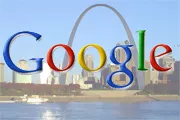 ​Last month
we were the first
to tell you that St. Louis was officially bidding to become the test market for Google's utra highspeed fiber optic internet service. The deadline to submit the application was last week so we thought we would follow up with Mayor Slays office and see how well the process went.
Kara Bowlin, the mayor's press secretary, tells Daily RFT that the process went really well and she believes that St. Louis is competitively positioned to qualify for Google Fiber. Our strengths: the mix and proximity of businesses, universities, and residential neighborhoods. Our population size (Google is looking for a population between 50,000 and 500,000) our position as the geographic center of a larger population (makes it easy for Google to expand the test area if needed) and things as simple as the fact that St. Louis doesn't require direct wire connections to homes be made below ground. Google could just hang a wire from a pole in the alley behind most homes.
This was also the first task for the mayor's new Vanguard Cabinet, a group of over one hundred young professionals and creatives organized to advise and inform the mayor's office of issues important to them. The Vanguard Cabinet was tasked with completing some of the Google Fiber questionnaire, and various city departments were tasked with competing questions related to the technical aspects of city infrastructure.
The city didn't take the publicity stunt approach to the application because they didn't think that was the sort of thing that Google was really looking for, according to Bowlin. St. Louis took a serious straightforward business approach to the proposal spelling out our many strengths and advantages.
The city did build this
website
for the proposal, complete with a map and videos showing interest in Google Fiber. Here are some of the videos submitted.

Google says they'll announce their pick by the end of this year.