On a sunny March morning in Cozumel, Mexico, Terrence McKellar was standing on a boat dock preparing to plunge into the clear blue Atlantic Ocean and explore a corral reef.
As he scanned the faces of the other scuba divers readying themselves for the day's journey, he spotted a familiar face -- one that looked remarkably similar to his own.
A
chiropractor
with an office on Fairgrounds Road in St. Charles, McKellar says he immediately recognized an "eerie resemblance" that went beyond their prominent brows and receding hairlines.
"I know quite a lot about human morphology and frame analysis," McKellar says.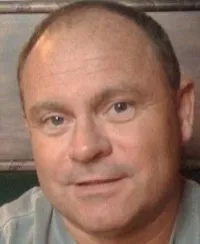 Terrence McKellar (bottom) met Keith McKellar by chance in Mexico
"This guy was about fifteen feet away from me and I said 'This cat looks
a lot
like me, except maybe an inch taller and fifteen pounds lighter.' So I said to him, 'It's been awhile since I've seen somebody as bowlegged as I am.'"
With that, the pair struck up a conversation while they waited for their boat to arrive.
The coincidences continued to add up.
The man McKellar met is named Keith McKellar. The chiropractor's middle name is also Keith.
Keith McKellar is from Toronto. He asked if his new acquaintance had any family in Canada.
Terrence McKellar replied that he'd never met his father but from conversations with his mother he knew a few things: his old man hailed from Toronto, was born in 1923, had red hair, worked as a tile-setter and served in the Canadian military during World War II.
"When I told him that his jaw dropped," McKellar recalls. "He was standing there utterly speechless."
Keith McKellar's father abandoned their family when he was ten years old, but his new acquaintance's description fit the man he remembered down to the last detail, including the fact that his dad was a paratrooper in the Royal Canadian Airforce.
"He was in disbelief," McKellar says. "He said, 'My father was the hardest-working man I knew. He was a tile-setter...and he was redheaded until the day he died about ten years ago."
Their boat arrived and the pair agreed they should leave on separate vessels so they wouldn't be distracted on their dive. They met later that afternoon for lunch, where they continued the conversation from that morning. Eventually they agreed that the coincidences were simply too great -- that they were almost certainly half-brothers.
The story, however, doesn't end there. Keith McKellar says he knows of at least two other half-brothers that their (presumed) father sired in different cities with two different women.
"As it turns out, my father was pretty adroit at starting a family," the chiropractor says. "We're not even sure if that's the end of it.
"I still really can't believe it," he continues. "There we were, standing on a boat dock two countries away and we both found a brother that was unbeknownst to us. A friend of mine calls that a 'God wink.'"
McKellar says Keith recently returned to Canada from Cozumel. They plan to submit a DNA swab test to a lab to confirm that they are blood relatives. We'll keep you posted on the results. McKellar, though, says he's certain of the outcome.
"I haven't sent them off for testing yet," he says, "But I'll be even more amazed if it doesn't come back positive."