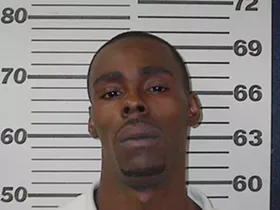 Madison Police Department
Emmitt Gordon, Jr., a.k.a., "Hoggy"
A 30-year-old Madison man known as "
Hoggy
" is in custody and charged with popping off a round that sailed three blocks and landed in a toddler's face. The child was sitting on his grandfather's lap at the time (we
blogged
it a week ago).
According to the Post-Dispatch
, the 30-year-old from Madison, whose given name is
Emmitt Gordon Jr
., was arrested Friday and charged Monday. The shot was one of several he fired at a group with whom he had some kind of beef, the article says.
Madison Police detective
Michael Renth
tells the
Daily RFT
that the folks he shot at had jumped him a month prior. Gordon himself has not said why he fired the gun.
As for the child, he's been released from the hospital with the bullet still in his head as doctors decide what to do next.