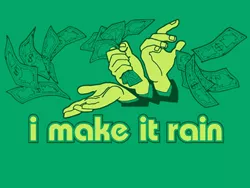 vintagecotton.com
Weekend weather forecast calls for rain. And that's a good thing!
St. Louis is abuzz with March Madness as the NCAA Tournament's
Midwest Regional
gets underway tonight at the Edward Jones Dome.
First up, the sixth-seeded Tennessee Volunteers take on second-seeded Ohio State at 6:07 p.m. The second game, between the ninth-seeded Northern Iowa Panthers and fifth-seeded Michigan State Spartans, starts at 8:37 p.m.
The St. Louis Regional Chamber and Growth Association (RCGA)
expects fans of the teams to drop more than $16 million
at hotels, restaurants and other establishments this weekend. And across the river in Illinois, nudie bars are also bracing for brisk sales.
"We usually have a large crowd that comes in on the weekends, but this weekend it should be even larger,"
Jerry Wilson
of the Penthouse Club informs
Daily RFT
.
Other strip-club operators agree.
"I'm sure we will see increased traffic," says an employee of Hollywood Show Club.
Ed Thomas
, of IEC Management (the parent company of five east side strip clubs, including PT's and Roxy's), says his company is doing a lot of promotion tonight around the Edward Jones Dome and expects big crowds all weekend.
Still, Thomas says tonight probably won't eclipse the single-biggest sports day for his businesses. That day? Cardinals' opening day in St. Louis, which this year fall on April 12.