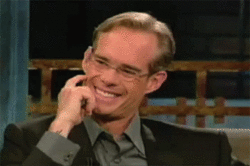 Buck: Enjoying himself or uncomfortable? You make the call!
It looks like HBO is about to pull the plug on St. Louis broadcaster Joe Buck's talk show,
Joe Buck Live
.
Talking to sports website
Deadspin this week
, Buck said the network informed him that it's moving away from talk shows.
"That's bad news when you have a talk show," said Buck, who suggested that the show could have gotten off to a better start. "If HBO loved the show, I am sure somehow it would continue. That's ok. I am a big boy. I gave it all I had and I had a blast on those three nights last year."
That's right. The show ran just three times, including its debut with potty-mouthed comedian
Artie Lange
who did his best to
forever ruin the show
.